Pratt Center is a founding member of the Basement Apartments Safe for Everyone (BASE) campaign, which advocates for a legal pathway for converting New York City basements and cellars into safe, healthy, and affordable apartments. The campaign won the East New York Basement Pilot in 2016, and is currently focused on city and state policy reforms to permit and fund basement and cellar apartment conversions citywide. We provide technical assistance to the campaign with a focus on land use and zoning analysis, communications strategy, and policy advocacy.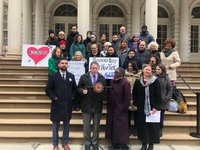 The intersecting crises of housing affordability, climate, and the COVID-19 pandemic add urgency to the need for safe and affordable housing for all, especially immigrants, people of color, and low-income workers. A crucial strategy is to legalize basement and cellar apartments in NYC's existing stock of small homes.  A citywide basement and cellar conversion program, based on the East New York Basement Pilot, could potentially produce up to 200,000 new apartments benefitting almost every neighborhood in New York City. Current city and state policy, however, makes this almost impossible. 
After success in launching the Pilot and a commitment from Mayor de Blasio to expand it citywide, the program was defunded as part of budget cuts during the COVID-19 pandemic. The devastating floods of Hurricane Ida in 2021, in which 11 New Yorkers living in basement apartments lost their lives, highlighted the urgent need to make these apartments safe and legal. Our current work focuses on building the political will and community backing to fight for what we know is a vital tool for the City to overcome the myriad crises low-income homeowners and tenants face around housing stability.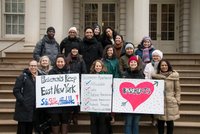 Our ongoing work includes:
Serving as a member of the BASE Campaign steering committee alongside Chhaya CDC, Cypress Hills Local Development Corporation, Queens Legal Services, and the Center for NYC Neighborhoods. 
Ongoing technical analysis of zoning and building codes that impact the ability of homeowners to create legally recognized apartments. 
Representing the BASE Campaign on a statewide coalition creating legislation to allow for the construction of Accessory Dwelling Units across New York State
Providing communications and design support for the campaign, including the creation of flyers, presentations, and social media campaign content and strategy.
Contributions & Milestones
In March 2022, BASE launched its Platform for Basement Apartments, outlining five key pillars to create safe, legal, and affordable basement and cellar apartments citywide including: establishing a citywide basements apartment program, fully funding the East New York Basements Pilot, passing State legislation to remove barriers to creating accessory dwelling units in small homes, making it affordable and accessible, and making efforts today around climate resiliency and flood infrastructure. Pratt Center contributed research, policy analysis and strategy, and design to the development of the platform.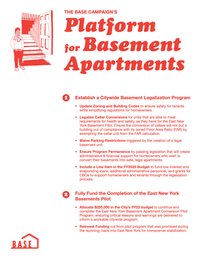 Downloads