Basements: "The key to unlocking more housing for New Yorkers"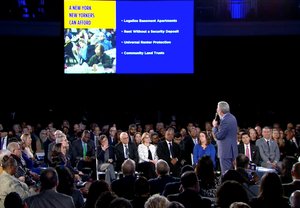 Mayor de Blasio announces a commitment to legalizing basement apartments during his State of the City address on February 6.
Basement apartments in New York City house tens of thousands of immigrant and low-income New Yorkers. Mayor de Blasio's announcement in the State of the City that he will focus on making these units safe and affordable is truly welcome. Pratt Center and our BASE Campaign partners, including Chhaya CDC and Cypress Hills LDC, have been advocating for more than a decade to bring these spaces up to code and have recently partnered with the City to pilot the basement conversion program in East New York. The Mayor's expanded commitment to finding new ways to overcome barriers to basement apartments, such as overly restrictive zoning codes and coordination of the relevant branches of city government, is a tremendous step forward and we look forward to working with the administration to find innovative and creative strategies that will improve the lives of the city's residents.