News from Pratt Center: October 2021
IN THIS ISSUE

1. Intensifying flash floods increase urgency to regulate basements
2. NYCHA Releases Sustainability Agenda & Climate Adaptation Plan
3. We're hiring
4. Pratt Center In the News
5. Meet the 2021–2022 Graduate Fellows
6. What We're Reading
1. INTENSIFYING FLASH FLOODS INCREASE URGENCY TO REGULATE BASEMENT APARTMENTS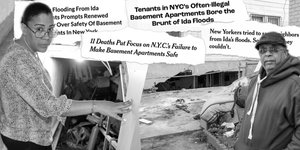 For much of September, the news of 11 New Yorkers who drowned in flooded basement apartments garnered the attention of local and national media. In the days after Hurricane Ida, members of the BASE (Basement Apartments Safe for Everyone) campaign fielded a flurry of calls from reporters wanting to know more about basement dwellings in NYC. Two months after the storm, we revisit how the City responded and highlight some of the key developments that have emerged. Read the full round-up→
In Case You Missed It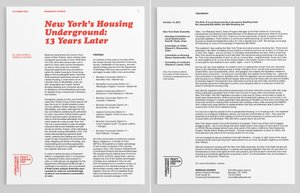 Last week, we released "New York's Housing Underground: 13 Years Later," which shows the need for basement legalization pathways is most critical in low-income, immigrant, communities of color.
Pratt Center's Rebekah Morris presented testimony to New York State legislators on proposed Accessory Dwelling Unit (ADU) legislation that would help remove multiple barriers to basement conversions in the NYC zoning and building code.
2. NYCHA RELEASES SUSTAINABILITY AGENDA AND CLIMATE ADAPTATION PLAN
This year Pratt Center worked with NYCHA to build and facilitate a Climate Action Network (CAN), which aimed to provide a space for residents to share their input and knowledge with NYCHA as their Sustainability & Energy and Resilience & Recovery teams planned for the next iteration of the Sustainability Agenda (released in September) and their first ever Climate Adaptation Plan. Read more about the Network→
In addition to facilitating the resident network, Pratt Center also collaborated with Yeju Choi of Nowhere Office on the design of the Climate Adaptation Plan and a companion document which reflects on NYCHA's Sandy recovery work, both of which were released in October.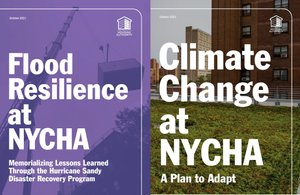 Flood Resilience at NYCHA: Memorializing Lessons Learned from the Hurricane Sandy Disaster Recovery Program is a reflection on NYCHA's Sandy recovery work that is meant to inform future coastal protection at NYCHA developments and beyond.
Climate Change at NYCHA: A Plan to Adapt builds on the almost $3 billion investment in resilience at NYCHA developments affected by Hurricane Sandy by looking ahead and laying out a set of strategies that will help NYCHA prepare for ongoing climate hazards.
3. OUR TEAM IS EXPANDING
Come join our tight-knit team of community-based city planners, urban policy wonks and environmental advocates as we work for a more equitable, sustainable NYC.
4. PRATT CENTER IN THE NEWS
5. MEET THE 2021–2022 GRADUATE FELLOWS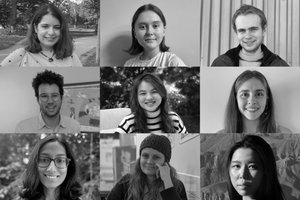 Pratt Center welcomed nine Graduate Fellows to our team this fall to work alongside staff members on a variety of planning, policy and organizational development projects. Read Fellow Bios
6. WHAT WE'RE READING
SIGN UP TO RECEIVE ALL THE LATEST PRATT CENTER NEWS IN YOUR INBOX