New risks from flash floods increase urgency to regulate basements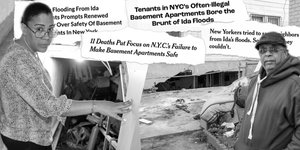 For much of September, the news of 11 New Yorkers who drowned in flooded basement apartments garnered the attention of local and national media. So now, almost two months after Hurricane Ida, where do things stand? What have we learned?
It's clear that threats we once considered future are now present and occurring with greater frequency. In a warming climate, catastrophic flash floods and other extreme weather are the new norm—posing an existential threat to our city, especially low income communities of color. While the Mayor claimed Ida's rainfall was something new and unprecedented, a Stormwater Resiliency plan released in May anticipated such floods with a Stormwater Flood map pinpointing the very areas where basement dwellers drowned. 
In the days after the storm, members of the BASE campaign fielded a flurry of calls from reporters, and cautioned against rushing to judgement that all basements have the same level of risk, explaining how basements are an essential source of housing for many low-income and immigrant New Yorkers. Pratt Center's Rebekah Morris talked with WNYC's Brian Lehrer about the urgency of making basement apartments safer for New Yorkers and about the BASE Campaign's years-long effort to get the City's attention on this issue. 
The City's response has been underwhelming. The Mayor announced a plan for a warning system that involves emergency alerts and first responders evacuating at-risk tenants ahead of dangerous storms, and issued a moratorium on inspections of homes affected by Ida until the end of the year. When questioned about solutions to the larger problem of illegal basement apartments, the Mayor's response was that he had "no immediate solutions," and that basements present a "massive structural problem" that is difficult and costly to address. 
But this doesn't tell the whole story, and largely ignores the work underway in East New York as part of the Basement Pilot program, an understaffed and underfunded effort by the City to test the feasibility of and ultimately create a model for converting unregulated basement units into safe and affordable apartments. The original goal of the program: just 40 units.
In an interview with the New York Times, Michelle Neugebauer of Cypress Hills LDC had the opportunity to set the record straight about progress made during the pilot, which despite severe staffing and budget cuts to the program, continues to work with homeowners to convert their units, but needs much more support in order to be successful. Pratt Center's Rebekah Morris spoke to Next City about the City's overall lack of leadership and enthusiasm for the pilot from the beginning. "They didn't take it seriously, I think they frankly didn't think they had to." 
The City's failure to address basement apartments after decades of advocacy can no longer be tolerated. The City can no longer turn a blind eye to the thousands of New Yorkers living in basement apartments, or claim it is a simple matter of relocating tens of thousands of families to affordable housing that does not currently exist.
Last week, Pratt Center's Rebekah Morris presented testimony to New York State legislators on proposed ADU legislation that would help remove multiple barriers to basement conversions in the NYC zoning and building code, without sacrificing safety. We also released a report "New York's Housing Underground: 13 Years Later," which shows the need for legalization pathways is most critical in low-income, immigrant, communities of color.