Pratt leads process for resident involvement in NYCHA Sustainability & Climate Plans
In the spring and summer of 2021, Pratt Center facilitated the creation of a Climate Action Network (CAN) for residents of NYCHA. The goal of the network was to provide a space for residents to share their input and knowledge with NYCHA's Sustainability & Energy and Resilience & Recovery teams, as NYCHA planned for the next iteration of the Sustainability Agenda and first ever Climate Adaptation Plan. These plans were released in late September and early October, with a number of recommendations within the plans shaped by the Climate Action Network.
Pratt Center and our partner Kinetic Communities (KC3) recommended the Climate Action Network as a way for NYCHA to build a relationship with a committed group of residents that understand the urgency of the climate crisis and the necessity of addressing it comprehensively. Many network participants spoke consistently about their desire to become partners with NYCHA—not just tenants—and the CAN provided the initial stepping stone for building the trust and transparency required for this to occur. 
Over a series of five workshops, NYCHA presented their initial ideas for making developments better prepared for the negative impacts of climate change, while also planning ways in which NYCHA could reduce its own impact on the environment. Areas of conversation included: 
Visioning a future resilient & sustainable NYCHA
Community Resilience Hubs
Resilient Landscape Design
Resident-led sustainability projects
Methods for communicating resiliency measures to residents
Understanding decision making at NYCHA and how funding streams impact opportunities
After the workshop series came to a close, Pratt Center developed a series of recommendations for NYCHA based off of the conversations that were had with the Climate Action Network; and facilitated the conversation and next steps for the group to direct and plan how they would work together as residents and staff moving forward.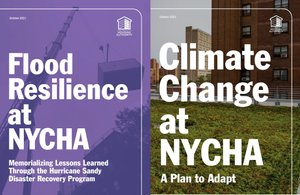 "Flood Resilience at NYCHA: Memorializing Lessons Learned from the Hurricane Sandy Disaster Recovery Program" and "Climate Change at NYCHA: A Plan to Adapt"
In addition to facilitating the resident network, Pratt Center also collaborated with Yeju Choi of Nowhere Office on the design of the Climate Adaptation Plan and a companion document which reflects on NYCHA's Sandy recovery work, both of which were released in October.
"Flood Resilience at NYCHA: Memorializing Lessons Learned from the Hurricane Sandy Disaster Recovery Program" is a reflection on NYCHA's Sandy recovery work that is meant to inform future coastal protection at NYCHA developments and beyond.
View Full Report→
"Climate Change at NYCHA: A Plan to Adapt" builds on the almost $3 billion investment in resilience at NYCHA developments affected by Hurricane Sandy by looking ahead and laying out a set of strategies that will help NYCHA prepare for ongoing climate hazards.
View Full Report→