News from Pratt Center: March 2022
Table of Contents
1. MEET THE NEWEST MEMBERS OF OUR TEAM
The struggle for a just city, writes Andrea Gibbons, "is not for a day or even for a lifetime, but was a gift to us from generations before and will be carried on through the generations after." This quote reminds us that as we continue to work with communities to develop solutions for a better future for New York, we do so bearing the torch of a gifted history. 

Many staff members throughout our nearly six decades have helped carry that torch. Back in 1967, our co-founder Ron Shiffman fueled the flame by innovating community-based development and helping launch the country's first community development corporation, the Bedford Stuyvesant Restoration Corporation.

Today—in a time of skyrocketing housing markets, climate change, and the widest income disparity in this nation's history—Pratt Center's team of planners and policy experts continues to work in partnership with community-based groups to build the capacity of local leaders to advocate for their communities. As the times change and the problems we tackle evolve it is important that new, energetic voices enter the conversation to help keep our initial flame burning strong. We're happy to announce four new members to our team that will bear this torch: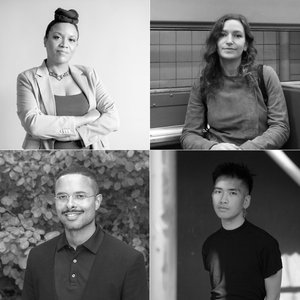 CHANTE RAMSEY
We welcome Chante Ramsey as our next Director of Operations. Chante is developing and implementing new systems that will help Pratt Center better run our programs and serve our community partners. She comes to us after twelve years as the Deputy Director for Business Administration with the Center for Court Innovation where she oversaw operations, grants management, technology, and training for a 600+ member staff.
SYLVIA MORSE
Sylvia Morse joins the team as the Pratt Center's Policy Program Manager, overseeing research and implementation of projects that advance housing justice initiatives. Prior to joining Pratt Center, she served as the Assistant Director of the Center for Family Life at Sunset Park's Cooperative Development Program. Sylvia also co-edited Zoned Out!: Race, Displacement, and City Planning in New York City in 2016.
ADDISON VAWTERS
We welcome Addison Vawters who will serve as the Program Manager for EnergyFit, an innovative model for increasing energy efficiency retrofits in small homes across the city. He joins us from the New York City Department of Housing and Urban Development where he was an urban planner leading the Bedford-Stuyvesant Housing Plan.
ELMO TUMBOKON
Elmo Tumbokon joins the team as a Communications Associate. Prior to the Pratt Center, he worked with Ashoka and the Brookings Institution on a national storytelling project studying the racial homeownership gap, as well as served a stint in the literary world as Editor for the Cleveland Review of Books.
2. JOIN US APRIL 4TH FOR "OUT OF THE BOX"
Empowering community, the birth and future of a movement
Monday, April 4, 2022 | 6:30–7:30 pm
Brooklyn Public Library | Dweck Center
Join Pratt Center, Pratt GCPE and the Brooklyn Public Library next Monday evening, April 4th to celebrate the work of Pratt Center co-Founder Ronald Shiffman with a panel moderated by New York Times Architecture critic Michael Kimmelman about the future of the community-based development movement. Panelists will include Ron Shiffman, LISC NYC's Eva Alligood, Bed-Stuy Restoration's Colvin Grannum, the New York Community Trusts's Patricia Swann.
3. SUMMER INTERNSHIP OPPORTUNITIES
If you are interested in bearing the torch with us, we are excited to announce we have five paid internship opportunities available this summer. You can learn more about each of the positions here.
Data Analysis and Visualization Intern
Sustainable Small Homes Intern
Made in NYC Design Intern
Made in NYC Events Intern
Made in NYC Program Intern
4. WHAT WE'RE READING
Can Art Bring Justice to Black Homeowners?
3/17/2022 | Next City

A new project, Inequity for Sale, raises awareness of Chicago's predatory lending history—where one study estimates land sale contracts robbed Chicago's black community of $3.2 to 4 billion in the 1950s and '60s.


'This is akin to a hostile takeover'
3/14/2022 | Tennessee Lookout
State officials ask residents of a small, predominantly Black Tennessee town near the site of new Ford investment to forfeit their city charter or face takeover.
Diébédo Francis Kéré wins 2022 Pritzker Architecture Prize
3/15/2022 | Dezeen
Burkinabè architect Diébédo Francis Kéré has won this year's Pritzker Architecture Prize, becoming the first African architect to win the award.

NYC's First Net Zero Community Brings Housing to Storm-Ravaged Neighborhood
3/04/2022 | CityLab
A swath of oceanfront land in the Rockaways will become a test bed for climate and economic policies, promising affordable housing and other amenities to a region hard-hit by Hurricane Sandy.


What's Different When the Community Collects the Data?
8/10/2021 | Shelterforce
A swath of oceanfront land in the Rockaways will become a test bed for climate and economic policies, promising affordable housing and other amenities to a region hard-hit by Hurricane Sandy.


The Irresistible Appeal of the 'Post-Industrial Park' 3/05/2021 | CityLab
In Parks for Profit, a sociologist argues that glitzy urban parks that rely on private funders can trigger displacement and drain resources from other public spaces.