Equitable Access to Art High Schools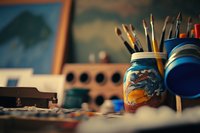 Overcoming the Negative Effects of School Segregation and Gentrification in Bedford-Stuyvesant
The Department of Art and Design Education is launching an academic partnership with Arts and Letters 305 and other local middle schools to include: a local residency model for student-teachers, teach ADE students system improvement through research and fieldwork and offer direct instructional services in art and design. The project addresses the educational needs of middle schoolers and their families as they identify, apply for and advance to high school. An educational intervention has been designed in collaboration with Arts & Letters 305 United to offer:
a MS Portfolio Preparation Program
sustained and sequential instruction at a key moment in the educational pathway (7th and 8th grade)
specialized audition/test preparation
presentations in school and out of school to parents/guardians on school choices for those seeking an arts-rich high school
workshops and presentations to parents and school administrators on college and careers readiness and post secondary success in art and design and
additional enrichment activities as identified.