News from Pratt Center: May 2022
Table of Contents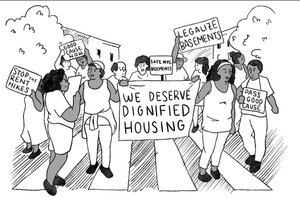 1. #RIGHT2REMAIN
Stop us if you've heard this one before: Your lease is up. Your landlord said that if you want to stay another year you have to pay a massive rent hike (50%, 75%, or even 100% more than what you're paying now). You can't afford it. You have to move even though you don't want to. You aren't even sure how you'll find another place you can afford. Unconscionable rent hikes have become an all too familiar story for New Yorkers. But it doesn't have to be this way. 

Pratt Center joined forces with Housing Justice For All and Community Service Society of New York to advocate for Good Cause eviction protections (S3082/A5573). Good Cause would expand the right to lease renewal to unregulated tenants statewide and challenge exorbitant rent hikes that act as de facto evictions.
Our first report on Good Cause, The Right to Remain, revealed that 1.6 million households or nearly 50% of the tenants in the state would benefit from Good Cause protections. Expanding tenants rights is also a racial justice issue. Black tenants are three times more likely to face eviction than their white counterparts, as we showed in our second report (Racial Justice and the Right to Remain). Landlord interest groups who oppose Good Cause say the bill would prevent cities from building new housing, exacerbating the already dire housing crisis. However, our most recent report, The Truth about Good Cause and Housing Supply, showed that places with Good Cause protections like New Jersey have outpaced New York in building new housing.
2. #SAFENYCBASEMENTS
The Basement Apartments Safe for Everyone (BASE) Coalition kicked off 2022 with several milestones including the release of its new Platform for Basement Apartments. The policy platform outlines city and state reforms addressing the urgent need to make basement and cellar apartments safe and affordable citywide:
Establish a Citywide Basement Legalization Program, including updating zoning and building codes to legalize basement and cellar apartments.  
Make it Affordable and Accessible, including creating an Office of Small Homes and providing low-interest and evaporating loans for low-income homeowners to cover conversion costs. 
Make Efforts Today including investments in city infrastructure to address flood risk and other critical safety issues.
Pass State Legislation Legalizing the Creation of ADUs, including amending New York law to ensure that the addition of a new basement or cellar unit in 2- and 3-family homes does not trigger the Multiple Dwelling Law onerous and costly code requirements for small homeowners. 
Fully Fund the East New York Basements[Pilot ensuring conversions are completed and that critical lessons and learnings are delivered to inform a workable citywide program.
The Platform for Basement Apartments was shared with City Council members at a March 10th policy briefing, presented by BASE campaign members with remarks from Jessica Katz, Chief Housing Officer in the Mayor's Office, and State Assembly Member Harvey Epstein. Pratt Center's Rebekah Morris presented on the growing urgency of basement apartment legalization and safety presented by climate change, which has expanded flood risk across the city beyond the 100-year floodplain, as painfully demonstrated by Hurricane Ida in which 11 New Yorkers living in basement apartments drowned. 
In April and May, we have focused on State reforms to remove barriers to legalization of basement and cellar apartments and other Accessory Dwelling Units. New legislation sponsored by Assemblymember Harvey Epstein and Senator Brian Kavanagh (S8783/A9802) would grant New York City "amnesty" from the Multiple Dwelling Law for certain ADUs in small homes. On April 28th, Pratt Center rallied in support of the bill alongside our fellow BASE members, bill sponsors Assembly Member Epstein and Senator Kavanagh, and City officials including Comptroller Brad Lander, Council Member Shekar Krishnan, Chief Housing Officer Jessica Katz, and others who support the creation of safe and legal basement apartments.
3. PRATT CENTER IN THE NEWS
POLITICO | 'Good Cause' Eviction and New Construction
New Pratt Center report reveals that Good Cause tenant protections would not hinder New York City's housing supply.
CRAIN'S | Legislators Aim to Legalize Underground Basement Apartments
Assembly Member Harvey Epstein and State Senator Brian Kavanagh team with BASE to unveil plan to give NYC a pathway for a citywide basement legalization program.
FASHIONISTA | Everything You Need to Know About the Fabric Act, the First Federal Fashion Bill
Pratt Center and Made in NYC endorse national legislation to protect garment workers and bolster the garment industry. 
4. WHAT WE'RE READING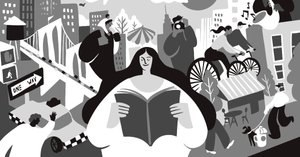 Black Communities Are Last In Line For Disaster Planning In Texas
5/12/2022 I Washington Post
"HUD has now found the exclusion of those majority Black and Hispanic urban communities to be discriminatory. The state shifted money away from the areas and people that needed it the most."
A Landlord 'Underestimated' His Tenants. Now They Could Own the Building.
5/06/2022 | New York Times
"When a new landlord bought their building in the Bronx and threatened to raise rents and kick them out, tenants banded together. They never expected how far they might get: the chance to buy their apartments for $2,500 each."
Discover America's 11 Most Endangered Historic Places for 2022
5/04/2022 | National Trust for Historic Preservation
"All of them are at a turning point, a critical moment when we as a nation either recognize their significance and fight to protect them, tell their full stories, and harness their ongoing relevance, or watch them disappear from our cultural landscape and fade into memory."
Bronx High School Students Get a Crash Course in Urban Planning
5/03/2022 | Chalkbeat
"We're going to college soon, so I feel like it is time we start stepping up to the real world, and I really like that we got a little piece of what it's like inside the Department of City Planning and how we can be potential contributors to the future."