A Bronx-based coalition has been leading a two-decade long fight to transform the Sheridan Expressway corridor with an environmentally just transportation and land use plan. Pratt Center has provided urban planning and strategic advocacy assistance to support and guide the community-based organizations driving the campaign.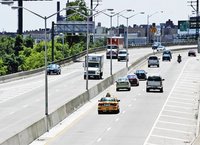 The Sheridan Expressway, an underutilized highway fragment just over a mile long, is part of a transportation system that serves neither local truckers nor community residents well. Since its construction, it has blocked access to the Bronx River waterfront and to new parks that are part of the Greenway while consuming precious land and forcing trucks to travel on local streets to reach food distribution markets on the Hunts Point peninsula.
In 1999, the Southern Bronx River Watershed Alliance (SBRWA) was formed to work for the removal of the Sheridan Expressway and the transformation of the South Bronx into a model of sustainable land use, environmental justice, and economic viability. In addition to Pratt Center, SBRWA includes Mothers on the Move, The Point CDC, Tri-State Transportation Campaign, We Stay/Nos Quedamos, and Youth Ministries for Peace and Justice.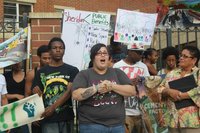 Years of community meetings, neighborhood organizing, strategizing, modeling, coalition building and advocacy resulted in the Community Plan for the Sheridan Expressway, which was named one of the leading ideas for "Reinventing America's Cities" in 2012 by then New York Times architecture critic Nicolai Ourossoff. Major portions of the Community Plan were codified through a City-led process funded by U.S. Department of Transportation that studied the relationship between the transportation network, land uses, and local residents and stakeholders, in a simultaneous and interconnected way.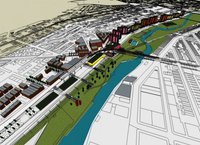 In 2016, after 17 years of organizing and advocacy, Governor Andrew Cuomo announced $97 million toward the transformation of the at-grade portion of the Sheridan into a boulevard, followed in 2017 by a budget commitment of $700 million to address multiple issues related to the Sheridan-Bruckner interchange. Read the SBRWA's statement on the announcement here.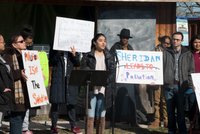 One year later, the Governor announced the allocation of $1.7 billion for a capital project modifying the Bruckner-Sheridan Interchange. Despite extensive organizing and advocacy from SBRWA and local small businesses during the environmental review process, the State selected a final plan that did not embody most of the core elements of the Community Plan. One key element did advance, thanks to SBRWA's advocacy: the Sheridan Expressway has been converted into a boulevard, allowing pedestrian, on grade crossing to Starlight Park and the Bronx River Greenway. Construction was completed in 2019.