In the aftermath of Hurricane Sandy, Pratt Center worked to develop community-driven long-term resiliency strategies.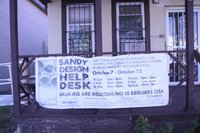 Hurricane Sandy exposed not only the urgent need for resiliency planning across New York City, but the disparate impact of climate change on low- and moderate-income communities and small businesses along the city's waterfront.
From the NYCHA tenants who lived without electricity and gas for months to the Brooklyn Navy Yard manufacturers whose equipment and inventory were destroyed, Hurricane Sandy overwhelmingly affected New Yorkers without the economic, technical and political resources to quickly respond and recover. In several low-income communities of color, over 90% of housing units—tens of thousands of homes—were damaged or destroyed. Communities in the Rockaways, Red Hook and Coney Island already struggled with an inadequate and poorly maintained physical infrastructure, economic isolation, high foreclosure rates and housing in disrepair – injustices exacerbated by the storm.
To address this, Pratt Center launched a multi-level resiliency planning initiative in New York City's low- and moderate-income communities most impacted by Hurricane Sandy. As part of this initiative, we supported the development of community-driven recovery and rebuilding strategies in partnership with local organizations. This work included assisting community-based stakeholders in understanding public documents, proposed regulations, and other resiliency policy, and in pursuing rebuilding funding opportunities; providing technical assistance and support for community resiliency planning efforts; data collection and analysis; and developing community-specific modeling for long-term climate resiliency.
Climate Resiliency Planning in Sheepshead Bay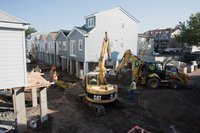 In Sheepshead Bay, which is representative of many of the waterfront areas rebuilding from the devastation of Hurricane Sandy, we provided planning and architectural assistance to a local group of residents whose homes were clustered in shallow street courts below the flood plain to rebuild in an efficient, resilient and innovative way that addresses the neighborhood's idiosyncratic and low-lying building stock.

In order to address the complications and urgency of rebuilding, along with the absence of formal local stakeholder representation, Pratt Center and Deborah Gans of Pratt Institute's School of Architecture collaborated with a group of impacted homeowners providing them with preliminary architectural assistance to support their rebuilding efforts.
Specifically we reviewed zoning, engineering, and building code issues that could impact raising the small homes above new base flood elevations; assessed historic and current sewer and infrastructure conditions that impact these small homes; and presented recommendations for a context-specific integrated approach to rebuilding at a neighborhood scale. These recommendations examined the host of rehabilitative, logistical, community-based, and bureaucratic actions needed to rebuild sustainably. They addressed:
incorporating sustainable materials into the rebuilding process and installing renewable energy;
sustainable landscaping, e.g. softscaping, wetland restoration, phyto remediation;
comprehensively elevating homes and infrastructure thirteen feet off the ground;
navigating ULURP, zoning and other regulatory processes;
aligning rebuilding with FEMA's base flood elevation standards, building code amendments, insurance requirements and funding; and
building the local capacity to collectively advocate for and implement community-driven resiliency strategies.
As a framework for elevating multiple homes simultaneously and integrating residential rebuilding into the creation of a more resilient infrastructure, these recommendations collectively represent a more comprehensive approach to rebuilding and climate adaptation in waterfront communities. The homeowners we worked with were enthusiastic about seeing this community-wide resiliency framework come to fruition. We are currently working closely with them to catalyze the implementation of our recommendations for rebuilding and resiliency through strategic coordination with the NYC Houses Reconstruction Program and other City, State or Federal resources and programs.
Toward an Informed Rebuilding: Documenting Sandy's Impacts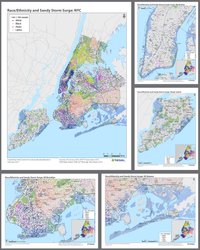 To strengthen community-based planning and identify local zoning, building code, construction, remediation, and resiliency priorities, we also advocated for and compiled comprehensive information on the storm's impacts.
Pratt Center documented the impact of the storm through a series of maps focusing on residential areas and Industrial Business Zones (IBZs) devastated by Sandy. The residential maps document the number of homes directly affected in Coney Island and the Rockaways, and show how vulnerable many residential neighborhoods remain to future storms. The NYCHA map, in particular, illustrates the storm's disparate impacts on low-income New Yorkers. The IBZ map demonstrates that many industrial areas, including those which use or store toxic materials, are also located in low-lying waterfront areas. There is a concern that toxics were carried by the floodwaters into surrounding residential areas and deposited in the soil.
These preliminary maps were created to begin addressing the large gap of available public information on the extent of the damage done, and other key data, such as the number of people living in the flood zone. More comprehensive data that accounts for the damage done to residential and industrial communities is needed to enable all New Yorkers to understand the challenges we face, as well as to inform the equitable allocation of rebuilding funds.

Alliance for a Just Rebuilding
Pratt Center also worked with the public sector and citywide networks to align recovery investments with immediate-term community needs and to link resiliency policy to long-term community visions. We were a member of the Alliance for a Just Rebuilding (AJR), a citywide coalition of labor unions and community, faith-based, environmental and policy organizations. As a member of AJR, we worked with our colleagues across the city to create equitable and sustainable solutions to low- and moderate-income communities' most pressing challenges, such as the inadequate recovery assistance to tenants, the need for transparency in rebuilding and resiliency planning, and the jobs crisis in climate-vulnerable communities.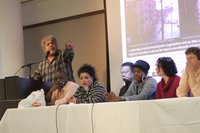 Pratt Center additionally served on the Planning Committee of the New York City Environmental Justice Alliance's Sandy Regional Assembly. The Regional Assembly was an association of environmental justice organizations and allies from Sandy-impacted and storm surge-vulnerable areas in New York City, New Jersey and Long Island. As part of the Assembly, we worked to advance community-led green infrastructure projects in flood zones and resiliency models for waterfront industries that will protect worker and community health and support good jobs.
Community Resiliency Planning Hubs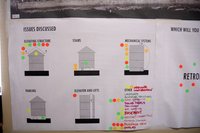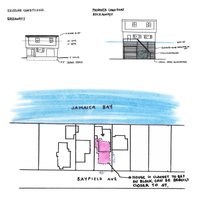 Lastly, Pratt Center developed community resiliency hubs—a participatory planning infrastructure that leverages rebuilding resources to empower residents to strengthen their communities in the face of climate change. The Help Desk provided free expert design and technical consultation to residents and property owners still recovering from Hurricane Sandy. Through this work, we aimed to create a formal mechanism for community participation and accountability in the rebuilding process, and to streamline City and federal resources and assistance to make it easier for vulnerable populations to recover. We worked to achieve this through strategic coordination with our community allies, the City and other advocates.
Small property owners faced challenges not only in repairing damage from Sandy, but in understanding the implications of the expanded 100-year flood zone, where pre-Sandy federal legislation now mandates a four-year phasing out of subsidies for flood insurance premiums. Tens of thousands of buildings will need to be elevated to keep insurance costs affordable; many of the people who came to the Help Desk were seeking specific information on base flood elevations and building elevation requirements applicable to their buildings. Other frequent questions involved safe locations for electrical and mechanical equipment and wet floodproofing of ground floors. The Help Desk helped homeowners to register for the City's Build It Back program, a critical step toward obtaining financial assistance for repairs and rebuilding. Staff of the Buildings Department and the Department of City Planning helped volunteers to prepare by presenting free training on the changes to zoning and building regulations enacted after Sandy.
Pratt Center partnered with Architecture for Humanity, Enterprise Community Partners, Margert Community Corporation, and the New York Chapter of the American Institute of Architects to launch the Sandy Design Help Desk in Rockaway. For one week in October 2013, Volunteer architects and designers gave individual guidance on building code, zoning and design questions. In 2014, the Help Desk was expanded to 5 additional neighborhoods including Red Hook, Brighton Beach, Canarsie, Coney Island, and Staten Island. Ultimately, the events involved partnership with over 18 community-based organizations, 63 volunteer architects, and resulted in direct support for over 200 homeowners.