Pratt Center is assisting the Justice for All Coalition, a local group of stakeholders organized by the Faith in New York network to ensure equitable outcomes will result from a series of major developments in Long Island City.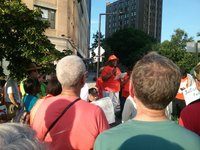 Western Queens (Astoria and Long Island City) is under consideration for a number of major planning projects, including the Brooklyn Queens Connector Streetcar (BQX), the potential development of Sunnyside Yard, and the large waterfront site known as Anable Basin that was to house Amazon before they withdrew their plans.
Even by New York City standards, this area has been undergoing massive change prior to these new proposals. What was once largely a low-rise, mixed-use (industrial and residential) area is now home to dozens of high rise residential and office buildings. Much of this development has been the result of previous manufacturing-to-residential/commercial rezonings in 1986, 2001, 2004, and 2008. The vast majority of the new housing built has been market-rate and thus unaffordable to many.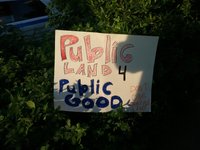 The Justice for All Coalition, a local group of stakeholders, which includes residents of the Queensbridge and Ravenswood Houses, has been engaging the community by holding training sessions, community forums, and rallies. They are working to galvanize local support to advocate for an inclusive planning approach by the City and the delivery of key community benefits including deeply affordable housing, jobs for local residents, and improvements to public housing.
Recent land use-related wins include Amazon's 2019 decision to not build a second headquarters on the waterfront and the City's recent withdrawal from talks with a consortium of private developers who wanted to create a large mixed-use development project that much of the local community did not support.
Pratt Center is providing technical assistance to the Coalition through project management support, in-depth analysis of recent trends and proposed plans, strategy assistance, and the development of a community platform.