News from Pratt Center: October 2020
Contents
1. Whose Value? Virtual Forum
2. Honoring Cecil-Mark Corbin
3. Flawed Findings Republished
4. New Resource: COVID Data Repository
5. Made in NYC Project Updates
6. News from Our Team
JOIN THE CONVERSATION
Virtual Forum: Land value recovery and the equitable city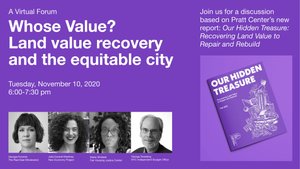 This week Pratt Center released Our Hidden Treasure: Recovering Land Value to Repair and Rebuild→ The report argues that the value of the city lies in its people and the strength of its communities and that untempered real estate speculation, ill-considered zoning changes, and privatization of public assets undermine this foundation.On Tuesday, November 10th from 6:00-7:30 pm, join us for a virtual discussion and debate on lessons from the de Blasio rezonings and bold strategies to limit speculation and recover land value for the public good. 
Confirmed panelists include:
Georgia Kromrei, The Real Deal 
Julia Duranti-Martínez, New Economy Project 
Marie Winfield, Fair Housing Justice Center 
George Sweeting, NYC Independent Budget Office
Hannah Anousheh, Cypress Hills Local Development Corporation, East New York Community Land Trust
TRIBUTE TO A FRIEND
Honoring Cecil Corbin-Mark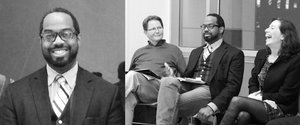 The world lost beloved and legendary environmental justice warrior, Cecil Corbin-Mark, earlier this month. An integral part of WE ACT for the past 26 years, Cecil leaves an incredible legacy of policy victories and a stunned field of colleagues and admirers who will miss the incomparable love and humor he brought to every room.
Pratt Center was privileged to partner with Cecil and WE ACT on various campaigns, and we will miss him dearly. Our hearts go out to his family and to WE ACT. They ask that we "honor his memory by continuing to battle environmental racism and champion health and justice for all." One way to do that is by donating to the Cecil Corbin-Mark Fellowship fund → 
POLICY RESEARCH & ADVOCACY
Advocating for better tools and policies to mitigate displacement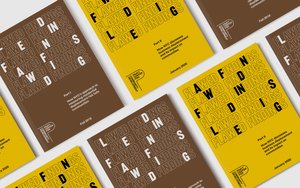 Pratt Center's companion reports, Flawed Findings Part I and Part II, which surfaced deep flaws in the City's methodology for measuring residential and business displacement risk, were adapted and published in the August and September issues of Environmental Law in New York. Click below to download each of the issues:

September Issue → 
(on Residential Displacement)

August Issue → 
(on Business Displacement)
NEW RESOURCE
COVID Data Repository
Against the backdrop of the continuing COVID pandemic, people in New York City and beyond are collecting and visualizing data to describe the spread of the virus and the myriad impacts it is having on communities. As part of our "Democratizing Data" initiative, Pratt Center has curated a list of online data resources that can help advocates, organizers, and staff at community-based organizations visualize and compare how COVID is affecting different neighborhoods and geographies across NYC.
PROJECT UPDATES
Made in NYC launches new initiative to assist Garment Center fashion companies, wraps up 3rd Annual Made in NYC Week
Our Made in NYC initiative has launched a new series of workshops for fashion companies that are part of Manhattan's Garment District ecosystem. Made In NYC Learning Lab: Fashion will expand our already extensive roster of workshops, trainings, resources, and community-building activities we developed to strengthen the marketing capacity of firms throughout NYC.


Our third annual celebration of New York City's manufacturing community ran from October 2nd-9th with an all-virtual program that included 8 virtual demos & tastings, 2 webinars, 5 panel discussions and 14 factory tours, all of which can be viewed at: madeinnycweek.com →
WHAT WE'VE BEEN UP TO
News from Our Team
Meet the 2020-2021 Graduate Fellows: Pratt Center welcomed six Graduate Fellows to our team this fall to work alongside staff members on urban planning and policy projects. View Fellow Bios →


Commitment through Action: Over the summer, we released our Racial Equity Action Plan → which makes explicit Pratt Center's commitment to co-creating a racially just world through all our practices as an organization. We recently corrected it to acknowledge and name two specific members of our team, Salvador Muñoz and Sydney Céspedes, whose leadership in the process leading up to this plan was especially critical. Thank you, Sal and Sydney!


The Future of Highways: On October 16, Pratt Center's Deputy Director, Elena Conte presented, "People, Process, and Power in the effort to transform the Sheridan Expressway Corridor" as part of the 2020 APA-New York Metro chapter's Annual Conference. Watch the Talk → (Elena starts at the 57:00 mark)