As the repercussions of the continuing COVID outbreak expand, groups and individuals in New York City and beyond are collecting and visualizing data to describe the spread of the virus and the myriad impacts the pandemic is having on communities.
This list of interactive maps and data visualizations focuses on COVID's impacts on New York City. Many of the tools here are updated on a daily basis. Please email Paula at pcrespo@prattcenter.net with suggestions to add to this list, and check back for further updates.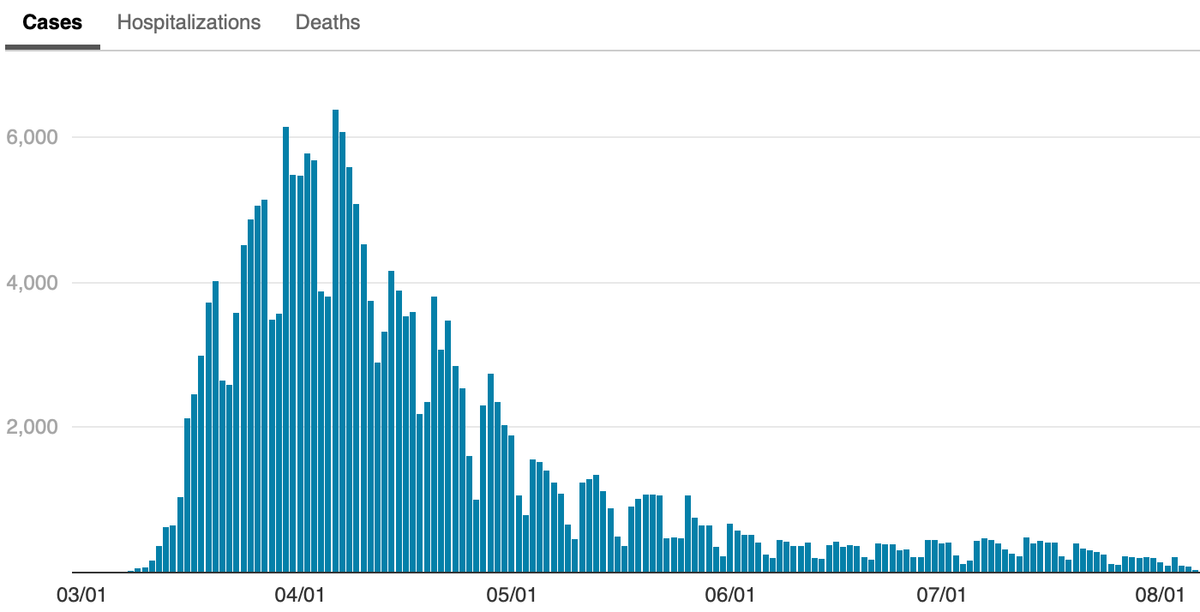 This hosts the most up-to-date information on COVID infections in New York City. It updates daily counts of new cases, hospitalizations, and deaths and has maps of where they are occurring. You can also find a link to the city's COVID GitHub Data Repository here.
Source: NYC Department of Health & Mental Hygiene
Updated: Daily
This contains data on COVID in New York City and includes people who live in NYC or who live in another country but are being treated in NYC. The data do not include people who live outside of NYC but in the United States. Data includes: Rates vs. Cases, Changes to reported data, Rates per 100,000 people, Geography (zip-codes and zip-code tabulation areas), Poverty groups, Age groups, Hospitalization status, COVID-19 deaths data and, Race and ethnicity.
Source: NYC Open Data and NYC DOHMH
Last updated: Daily. (COVID testing data updated every Thursday.)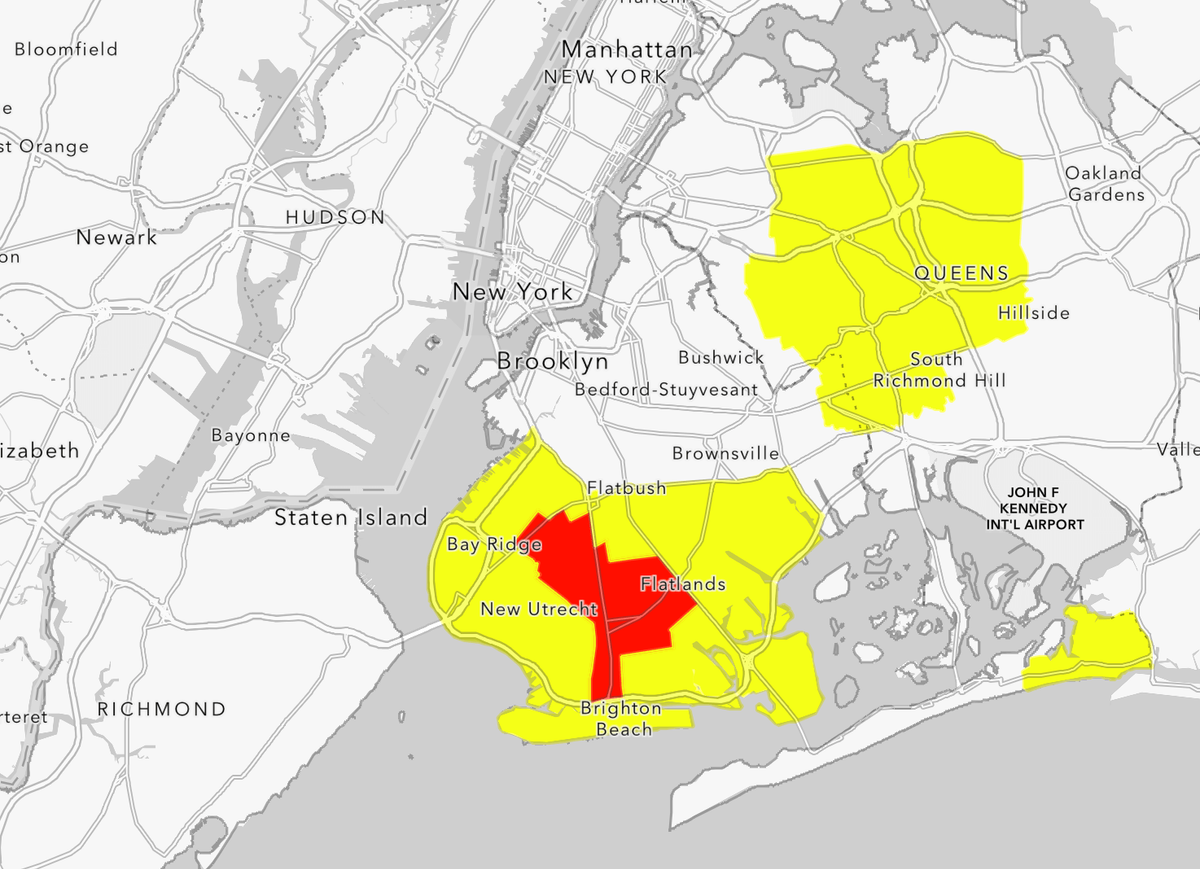 The map allows New Yorkers to enter their address and find what zone they live, work, shop, and go to school in. In the first week of October 2020, a "zone shut down" plan based on zip-codes was released for the affected parts of Brooklyn and Queens to enforce shutdowns that may remain in place if the rise in COVID-19 cases is not brought under control.
Last updated: Weekly
Source: DoITT, NYCEM and DOHMH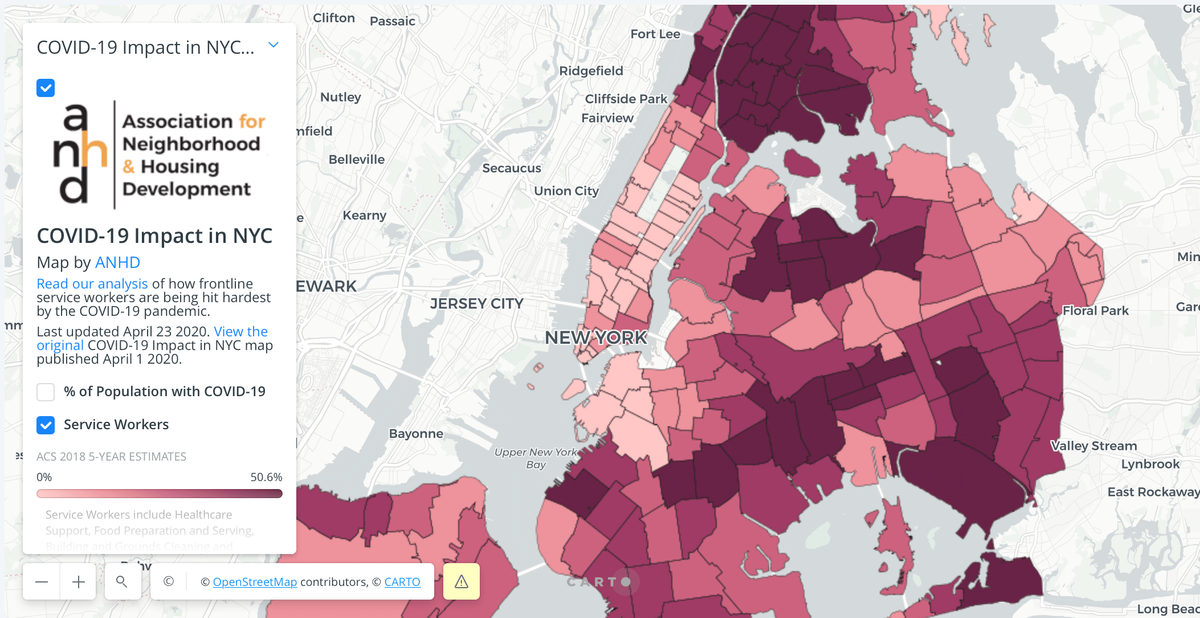 The layers on this map show some of the ways low-income and BIPOC communities in NYC are disproportionately vulnerable to the impacts of COVID.
Source: Association for Neighborhood & Housing Development (ANHD)
Last updated: April 2020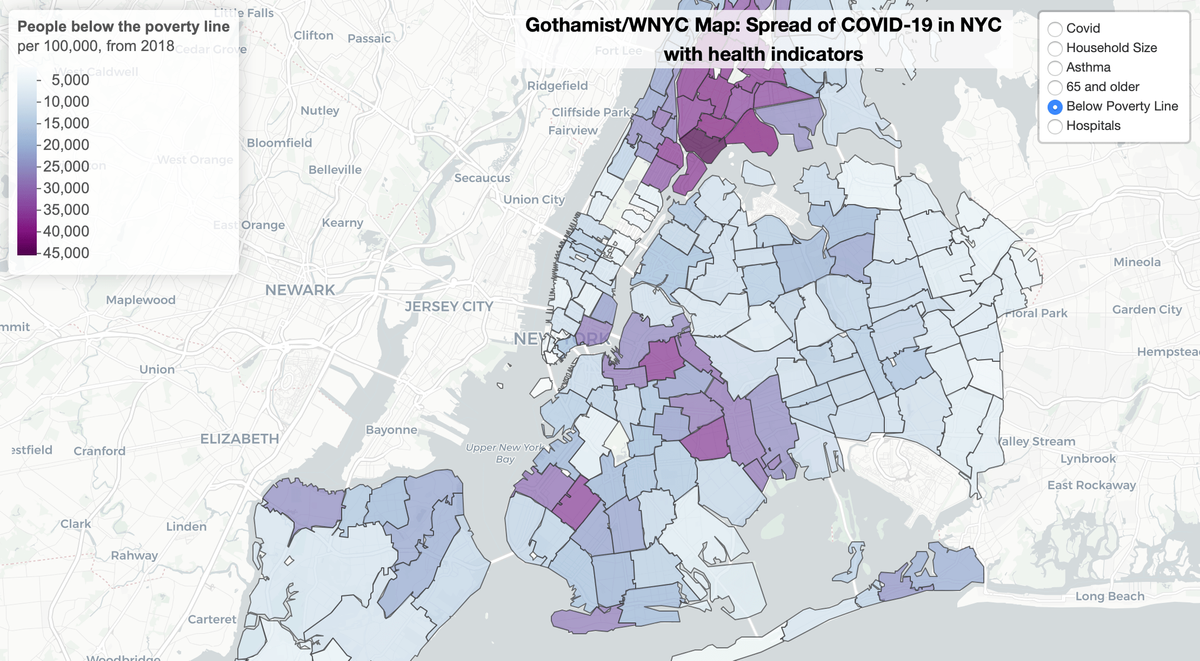 In addition to the number of COVID cases in each zip code, this map contains indicators of community health determinants, including household size, asthma rates, number of older adults, number of people below the poverty line, and location of hospitals in NYC.
Source: Gothamist / WNYC
Last updated: October 15, 2020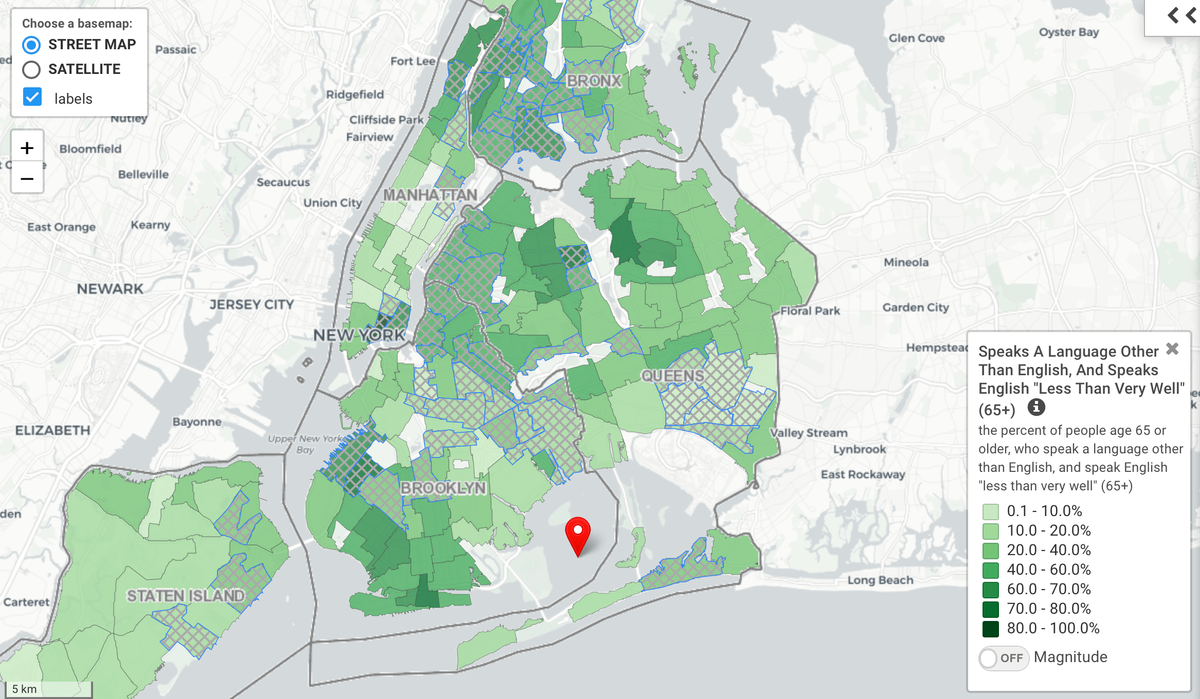 This page has more than fifteen maps that point to neighborhoods with large concentrations of those who may be at higher risk for COVID.
Source: New York Academy of Medicine's IMAGE:NYC
Last updated: Updated with the most recent census data (2018 ACS 5-year data)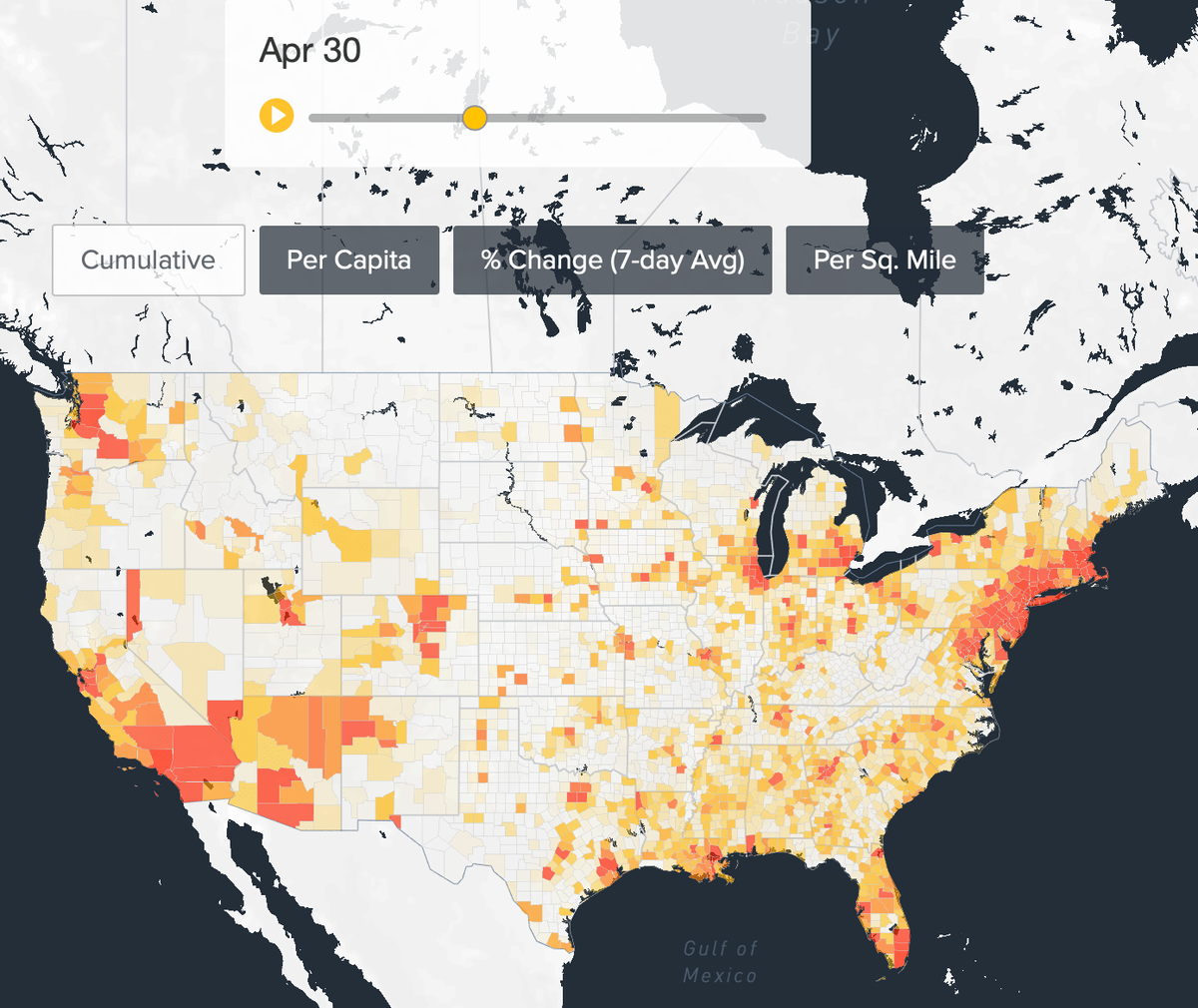 This map visualizes how COVID cases have spread across the U.S. over time, from cumulative cases to cases per square mile.
Source: Student researchers at NYU and Carnegie Mellon University
Updated: Daily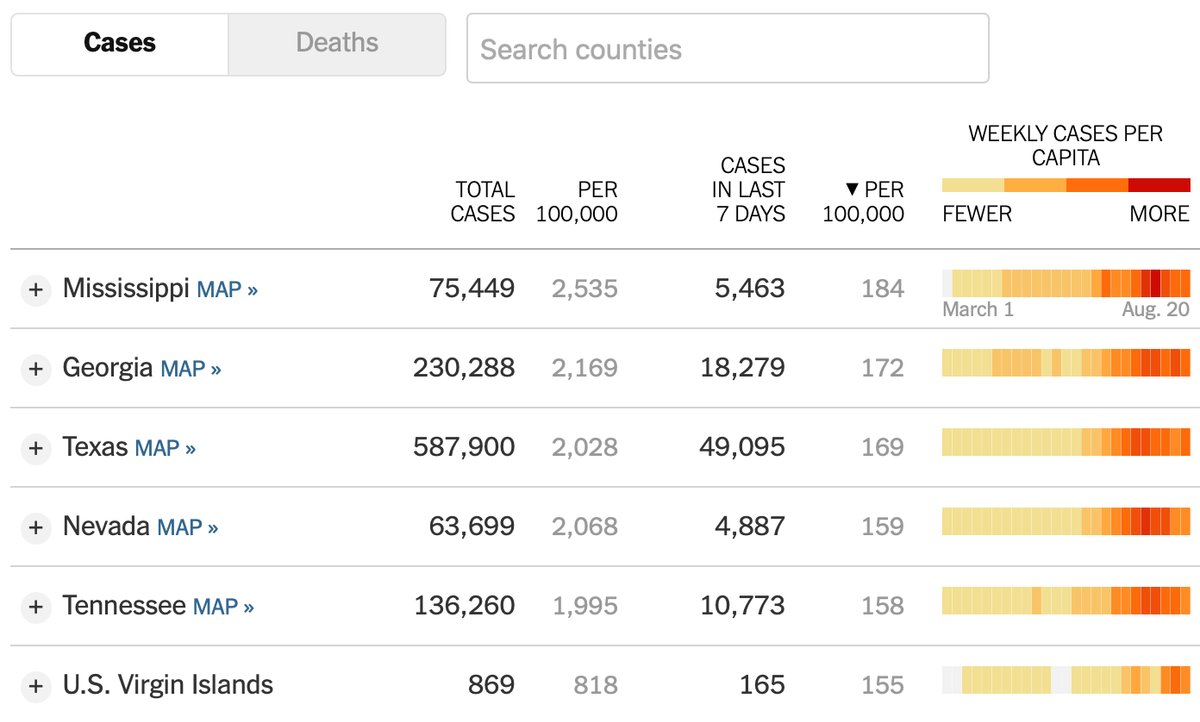 This contains numerous infographics of where COVID cases and deaths are increasing and decreasing, among other things. It shows cases by state, hot spots, and total cases. It also has a set of maps that show the number of deaths, cases, and cases per capita spots for each county in the U.S.
Source: The New York Times
Last updated: Daily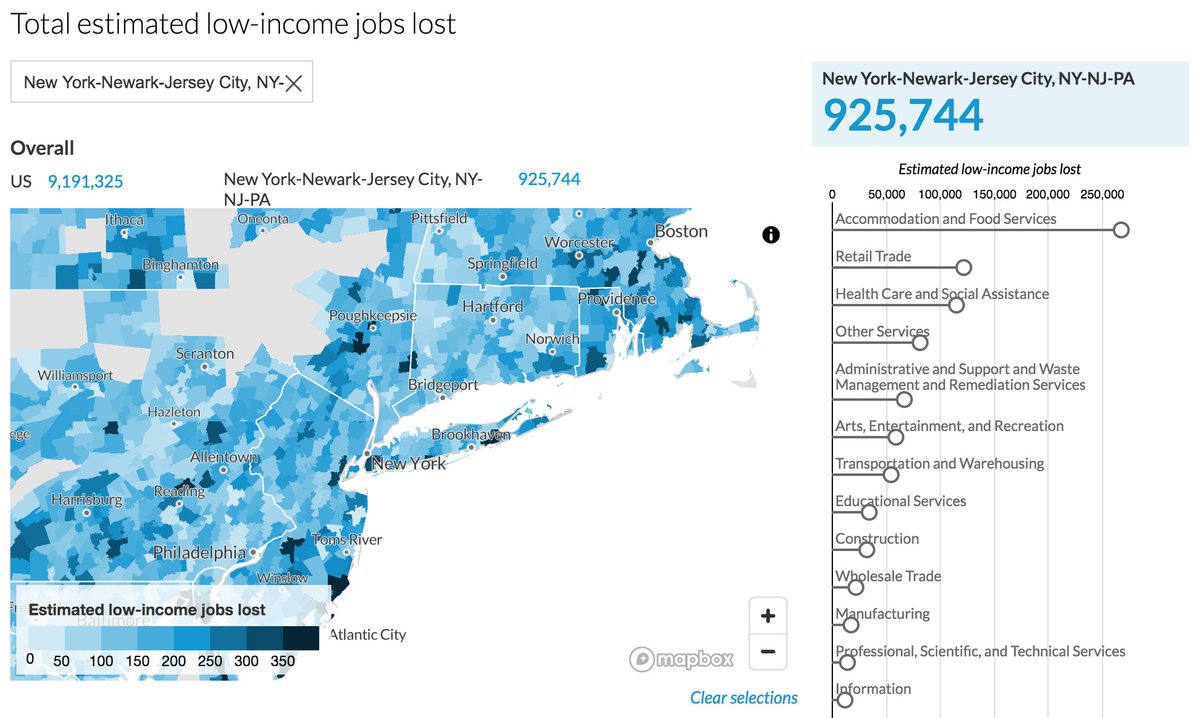 This project estimates and visualizes the number of low-income jobs (less than $40,000 a year) lost due to the pandemic to identify places with significant economic vulnerability. Users can search by county or metro area or navigate around a map of the United States.
Source: Urban Institute
Last updated: Monthly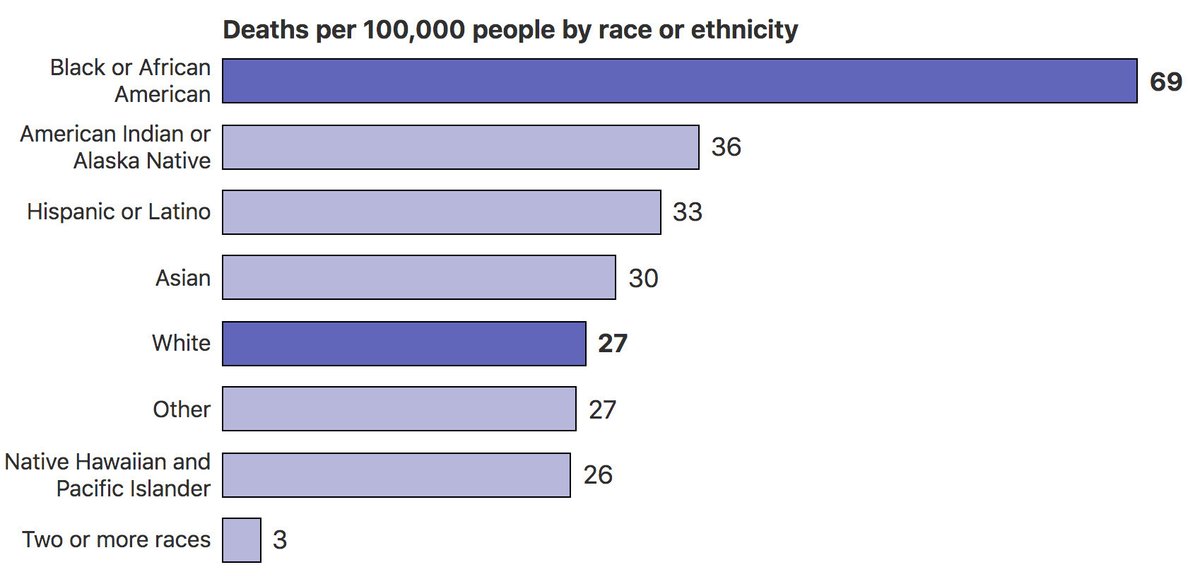 This portal tracks each U.S. state's COVID case and death disparities by race and Latino origin.
Source: Center for Antiracist Research and the Atlantic
Last updated: Twice per week