Notes on Documenting Women at Work
Every year, Pratt Center awards Taconic Fellowships to Pratt Institute faculty, staff, and students working on collaborative and engaged community development projects throughout New York City. This year's fellows were invited to share insights from their work with Notes On. This note was authored by Cynthia Tobar, whose project Mujeres Atrevidas, engaged immigrant women organizing and agitating for worker's rights in Brooklyn. On Friday, May 12, Pratt Center will host a screening of Mujeres followed by a panel discussion. More info can be found here.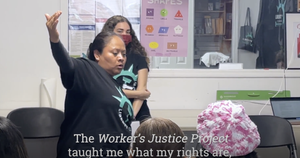 Still from 'Mujeres Atrevidas' (2023).
Mujeres Atrevidas (Bold Women) is a documentary project that chronicles female app delivery workers, construction workers, and domestic cleaners as they confront harsh working conditions in Brooklyn. Weaving together moving interviews and vérité footage that tell of their daily working lives and struggles, Mujeres Atrevidas takes the audience through the journey of how these women find community, overcome obstacles, and tap into their inner strength to organize for themselves. The documentary starts with a montage of each woman in her daily life, moves to them speaking about the fears and challenges they face in their work, and then focuses on their key to success: care and friendship. 
The site of these women's friendship and agitation is the Workers Justice Project (WJP), a Brooklyn-based worker center that organizes low-wage, immigrant workers who are fighting to raise workplace standards in the construction, house cleaning, and app-based delivery industries across the five boroughs. Thus, this project also looks at a growing contemporary social movement: worker centers and how their members and supporters come to understand the need to contest economic power through policy and organizing while harnessing political and cultural power to turn the tide of the labor war.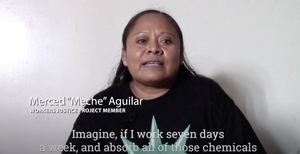 Still from 'Mujeres Atrevidas' (2023).
Drawing inspiration from the civil rights movement, the women's movement, the Chicano movement, immigrants' rights struggles, and movements of the global South (from which many workers have emigrated)—worker centers build worker power outside the purview of traditional collective bargaining. In the process, worker centers address fundamental disparities in the U.S. economy and beyond. In spite of continuing challenges facing low-wage workers during this post-COVID climate, where the lines between racial and economic justice intersect, worker centers address fundamental disparities in the municipal—and national— economy by providing spaces in the struggle to include immigrants and minorities.
And while there are a significant number of women who work jobs in construction, domestic service, or restaurants, less attention is paid to women workers' struggles. This documentary project focuses particularly on the immigrant female experiences directly informing this moment in the labor movement. Highlights include an interview with Meche Aguilar, who came to this country as a teenager and has suffered from long exposure to toxic cleaning chemicals through her work as a domestic cleaner. Another narrator, Ernesta Galvez, also shares her story as a food app delivery worker who had severe injuries as a result of hazardous street conditions. Both women are Latine immigrants and single mothers who faced harassment and wage theft due to their gender and citizenship status. Workers Justice Project Executive Director Ligia Guallpa along with staff members Hildalyn Hernandez and Maria Valdez gave me their insights on the critical role they play in providing much needed guidance and support to these women, helping them tap into their inner strength to organize for themselves. 
Ultimately, Mujeres Atrevidas aims to not only draw attention to these workers' daily lives, but also enable viewers to consider their overall challenges within the larger social justice movement that inform the contemporary realities of labor in NYC.
Footnotes

Fine, J. R. (2006). Worker centers: Organizing communities at the edge of the dream. Cornell University Press.

Gutiérrez-Rodríguez, E. (2010). Migration, domestic work and affect: a decolonial approach on value and the feminization of labor. Routledge.