Meet the 2021-2022 Taconic Fellows
The Pratt Center for Community Development is pleased to announce the Taconic Fellows for 2021- 2022. Awarded annually to teams of Pratt faculty, staff and students, the Taconic Fellowship helps fuel Pratt's contribution to community service by supporting partnerships with non-profit organizations across New York City. In response to COVID, the five projects that were selected this year address the theme of public health. Each of these teams will receive up to $12,000 in financial support to help cover project costs and compensate fellows and community partners for their time.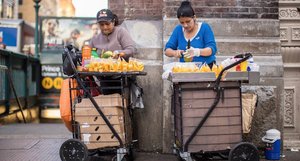 PROJECT 1
ENHANCING ACCESS TO HEALTHY FOOD
Fellows:
Ryan Thomas Devlin, Historic Preservation
Ane Gonzalez Lara, Undergraduate Architecture
Shanaz Khan, M.S. Historic Preservation candidate
Eesha Jain, B.Arch candidate
Ryan Devlin and a team from the School of Architecture are working with the Street Vendor Project on a new, inexpensive and lightweight design for food vendor carts that is conducive to selling fresh, healthy food, with a focus on traditional Latin American cuisine. This participatory design project will engage with vendors to develop a health department-compliant vending unit prototype that fits the specific needs of the vendors, and it will create an open-source document of the assembly system to allow more vendors to utilize the design and transition into a formal business model.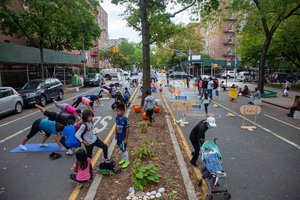 PROJECT 2
MULTIGENERATIONAL ACTIVE STREETS
Fellow:
Hannah Berkin-Harper, Industrial Design
Industrial design professor Hannah Berkin-Harper is working with Street Lab and 34th Avenue Open Streets Coalition to create street furniture prototypes to help promote multigenerational physical and social activity in Jackson Heights, Queens. The project aims to help both of these partner groups introduce healthy and interactive opportunities for the diverse senior community in the neighborhood.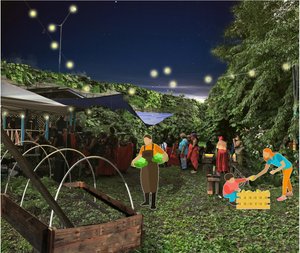 PROJECT 3
THE GREEN STITCH
Fellows:
Ayesha Agha, M.Arch candidate
Sokaina Asar, M.Arch candidate
Catherine Chattergoon, B.Arch candidate 
Jared Rice, B.Arch candidate
Michelle Singer, B.Arch candidate
Jubin Titus, M.S. Arch candidate
Alexandra Barker, Graduate Architecture and Urban Design
Jerrod Delaine, Construction/Facilities Management
Peter Macapia, Graduate Architecture and Urban Design
Ayesha Agha and a team of architecture students and faculty are working with Green Guerillas to help restore the neglected John the Baptist Community Garden in Bedford-Stuyvesant. This project will engage youth from the Green Guerilla's youth initiative to help raise public awareness of the garden through a series of workshops, surveys and documentation.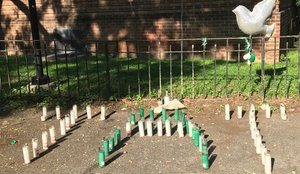 PROJECT 4
RECLAIMING THE COMMONS THROUGH PLAY
Fellows:

Deborah Gans, School of Architecture
David Burney, Urban Placemaking and Management
Caitlin Cahill, Urban Geography and Politics
Jerrod Delaine, Construction/Facilities Management
Professor Deborah Gans and a multidisciplinary team of faculty are working with the Center for Court Innovation 's Neighborhood Safety Initiative on a participatory design project to help re-envision underutilized public spaces on three NYCHA campuses in East Harlem. In the context of a post-covid city beset by segregation, disinvestment, and violence, this project aims to create much-needed intergenerational space for healing and gathering with and for residents of Wagner, Jefferson and Johnson Houses.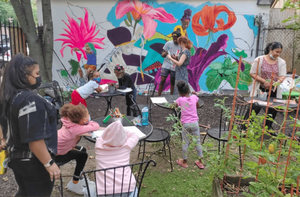 PROJECT 5
ALL WEATHER GARDEN PAVILIONS
Fellows:
Alexandra Barker, Graduate Architecture & Urban Design
Paul Laroque, Graduate Architecture and Urban Design
Ivan Man Hin Yan, M.Arch Candidate 
Sara Brandt, M.Arch Candidate
Professor Alexandra Barker and a team from the School of Architecture are working with residents of Concourse House to design outdoor learning environments for women and their children living at this transitional housing shelter in the Bronx. This public space project will allow Concourse House to expand the space and scope of their art programs by making better use of their outdoor space and introducing new workshops that will explore sensory aspects of the garden environment.