News from Pratt Center: June 2020
Mayor's cuts could bury Basement Pilot in East New York
After heralding basement apartments as "the key to unlocking more housing for New Yorkers" back in February, Mayor de Blasio is putting the East New York Basement Pilot on the chopping block to save a mere $1.09 million. This is a drop in the bucket for the city budget, but would amount to the erasure of an innovative affordable housing tool promised to the East New York community. It's not just East New York that could lose out. If this pilot goes citywide, over 200,000 buildings could potentially have legally-recognized basement and cellar apartments, providing safe, healthy and affordable housing for immigrants, essential workers, low-income households and communities of color. How to help >>
Neighborhoods hit hardest by COVID-19 stand to benefit most from basement apartment legalization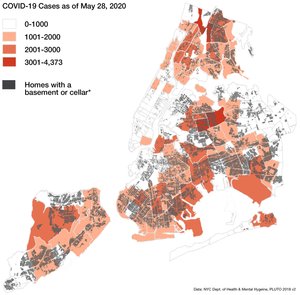 COVID-19 cases per zip code as of May 28, 2020 and homes with a basement or cellar. Homes shown here with a basement/cellar are those that would meet the eligibility parameters set by NYC HPD for the East New York Basement Pilot, which includes one-, two-, and three-family homes with basements or cellars; located outside of flood zones; and more.
Download Map >>
New mapping tool visualizes potential basement apartments across NYC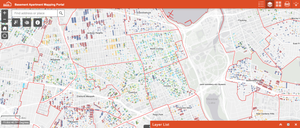 Today Pratt Center introduced the Basement Apartments Mapping Portal, a new online tool that helps individuals or groups explore how legalizing basement apartments could bring much needed housing to their neighborhoods. The Portal shows potential basement/cellar apartments alongside demographic data such as Median Household Income and Race/Ethnicity.
Pratt Center welcomes Tara Duvivier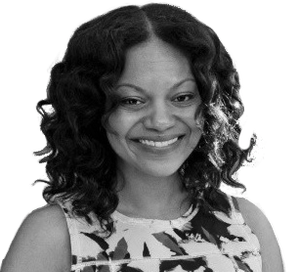 Please join us in welcoming Tara Duvivier to the Pratt Center team as Senior Planner. Tara is a firm believer in strengthening communities by resolving problems in the built environment and working with stakeholders to find solutions that are equitable and effective. Tara previously served as a Planner for the Office of Manhattan Borough President Gale Brewer and prior to that, spent over a decade working in non-profit affordable housing development. Tara's Full Bio >>
What we're reading