Four Common Mistakes to Avoid when Designing Your Nonprofit's Website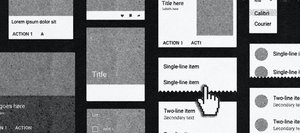 In a conversation following the launch of Pratt Center's new website in August 2020, our development team at GrayBits offered the following dos and don'ts for nonprofit organizations when approaching a new website project.
1. Don't treat the website as a purely aesthetic object, but as a fully active content delivery system. It's not just how it looks, but how people use it, and who uses it. Be sure to consider user experience and functionality.
2. Don't approach a new website trying to mix and match different sites you like. There are reasons why all the features on other websites exist. Approach a project with a blank slate, asking yourself questions like: What do we need? What are we trying to solve? What's the solution? There should be reasons behind every decision, whether aesthetic or functional.
3. Don't ignore accessibility. You (the client) have to drive this priority, so that the developer can spend the time and push for a design that's accessible. It's very easy to let aesthetic considerations run roughshod, which can result in unnecessary decisions that often inhibit accessibility for no good reason.
4. Think about how a website fits into the full digital footprint of your organization. Smaller organizations are quickly drawn to social media platforms because they're accessible, have a broad user base, and are free most of the time. So consider what this secondary space (your website) actually is and how it relates to your organization, your history, and the content you're producing. Websites can be many different things: 1) an aggregate of content, like a database, something long-term, 2) something quick more akin to a publication or zine (more temporal). Relying too much on expectations that have been generated by templating software like Squarespace and Wordpress has created fixed ideas of what content a website needs to contain in order for it to be considered a website. In reality, if content exists on a FB page or IG page, why duplicate it and create this secondary experience, which is confusing or not as accessible as the other? Within a web project, it helps to focus at a smaller scale.