Pratt Phenology Trail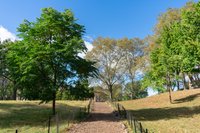 Together with graduate students and the Fort Greene Park Conservancy, this project will research, assess, and initiate a trail network emanating from the Pratt Campus throughout the neighborhood and points beyond. A multi-purpose trail network will connect the Pratt Campus to nearby natural areas, while interpreting the urban and natural landscape and community around us; it will involve multiple stakeholders, potential users, pertinent data (existing and new) and community partners. Initially focused on the phenology of organisms (life cycle changes) the trail can serve as an interpretation of the variables and factors affecting life in central Brooklyn.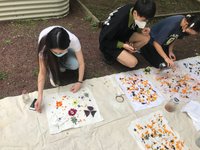 Pratt Institute's 26 acre campus in Brooklyn is an oasis of natural life and historic architecture and is enjoyed by students, faculty, staff and visitors. It is also open to the general public and attracts community members from surrounding neighborhoods to relax in the cool quadrangles and experience the sculpture gardens, while being surrounded by the comfort of Pratt's architectural heritage and intellectual and creative atmosphere. The campus also features individual plants (trees, shrubs, flowers) and the organisms attracted to these plants (birds, insects, etc) to create a biodiversity milieu that is locally important and that equally provides a place for mindfulness and creativity.
The Sustainability Indicators class (MS. Sustainable Environmental Systems) assessed these organisms and the campus as a whole to use phenology as an indicator of biodiversity, climate change, and as a reference for landscape restoration to be used as a resource for various classes and programs at Pratt. If a trail, at its most basic use, is for exercise and mindfulness, it is understandable that not all users will be keenly interested in the details of the organisms along the way, however, they may be interested in other conditions or phenomena. Trails in this sense can serve as transects for data collection and analysis in the form of publicly available data, data collected by students and others, and sensors that exist in the neighborhood or are newly installed for research purposes.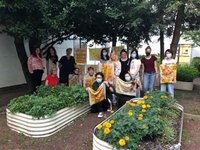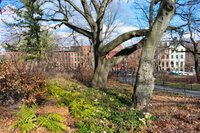 The Fort Greene Park Conservancy has a keen interest in interpreting the landscape in the context of involving neighborhood youth in identifying problems and opportunities in the neighborhood in the face of climate change. It is anticipated that the design of a trail with the input of these vital stakeholders and the resources available in the Pratt community will offer an opportunity for learning in an outdoor laboratory and stimulating community research that results in heightened awareness of the variables and forces around us which will lead to meaningful and beneficial solutions to community challenges. It will also provide routes for mindfulness and exercise which will benefit those members of the Pratt community who are new to the City (or US) and can be a bridge to the surrounding community and elsewhere in New York City.
This project will conduct a stakeholder analysis, provide opportunities for inclusive trail design, assess potential data points for study and interpretation (including phenology), and involve stakeholders in methods for selecting transect subjects and interpretation modes.