Long Memories of Material Injustices
This project, Long Memories of Material Injustices: Central Brooklyn Elders Speak about Inequitable Transportation Access, engages Central Brooklyn elders, Pratt faculty and students, 7Cinema, and other community partners in a public history project focused on transportation access over the last eight decades. The historical exclusion of Central Brooklyn's Black and Latine residents in shaping transportation policies, practices, and infrastructure that affected their daily lives resulted in inequitable access, diminished economic opportunity and quality of life, and damaging design choices. The project will highlight the 1969 removal of the Myrtle Avenue El, the effects of the 1970s fiscal crisis on subway and bus services, the effects of the BQE on community life, and past and present activism for equal access to public transportation.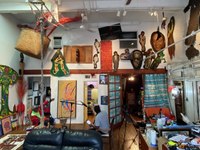 The project will engage elders living in and around NYCHA developments in Vinegar Hill (Farragut), Fort Greene (Walt Whitman and Ingersoll), and Bedford-Stuyvesant (Marcy, Tompkins and Sumner). Their memories, shared through oral histories and unconventional archival practices, will capture the accumulated history of discriminatory polices and practices that contributed to social problems in Central Brooklyn, along with providing stories of social justice activism to improve community life by addressing collective needs.
This public history project will raise public awareness about structural racism in transportation access and inform future public transportation designs and services in Central Brooklyn. It will also bring together contemporary community activists and elders to shape future demands for more equitable transportation access.