In the early 90's, with support from the Ford Foundation, Pratt Center initiated an Oral History Project in an effort to educate the broader public on the history, philosophy, achievements and challenges of the community development movement. The project, which documented the work of 19 Community Development Corporations, became an invaluable outreach and training resource for the community development field, and culminated in the production of a documentary, Building Hope, which first aired nationwide on PBS in 1994. Building Hope is a one-hour documentary chronicling the history and accomplishments of community development corporations across the nation, based on oral histories conducted with founders, leaders and supporters of 19 influential CDCs.
Community development corporations (CDCs) struggle to address problems of social, economic, and physical distress in low and moderate-income communities throughout the United States. Their fundamental mission is to build community leadership and empower low-income people to take charge of their future. Despite great adversity, the field of community development has matured and grown tremendously over the years.
The Pratt Center received the support and encouragement of the Ford Foundation to initiate an Oral History Project that would capture the rich history of the CDC movement from the perspective of some of its founding leaders. The documentary draws from interviews with the founders, leaders and supporters of 19 CDCs across the country, which are available to researchers, scholars and other interested individuals as part of the permanent collection at the Schomburg Center for Research in Black Culture.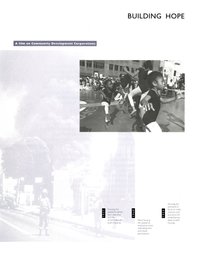 Downloads
While the CDCs in the film vary in terms of their goals and strategies for revitalizing the communities they serve, these CDCs share common roots in the civil rights and antipoverty movements of the 1960s.
Major funding for the CDC Oral History Project and Building Hope was provided by The Ford Foundation. Additional funding provided by: Fannie Mae Foundation, Prudential Foundation, and the Victoria Foundation.
The CDC Oral History Project is dedicated to the memory of Charles Bannerman, Bernard McDonald, Ted Watkins and other leaders of the movement who are no longer with us.