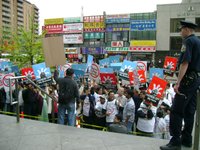 As the City Economic Development Corporation (EDC) moves to redevelop Willets Point, an industrial area nestled between Corona and Flushing north of Flushing Meadows Park, the Pratt Center for Community Development facilitated a series of workshops to identify and prioritize the concerns of area residents, business owners and workers.
The Pratt Center prepared a report based on these conversations, "Making Willets Point Work for New York: A Plan for Neighborhood Success," evaluating the EDC's plan and making recommendations for improvements.
The City intends to acquire or condemn (through eminent domain) 61 acres of privately owned industrial businesses, including auto salvage shops and warehouse distributors - hundreds of businesses in all, employing more than 1,300 workers. EDC would arrange for a single developer to build 5,500 units of housing, 1.7 million square feet of retail, commercial and entertainment space (including a 2,700-seat movie theater), a hotel and convention center, and a 650-seat K-8 school.
Working with the Pratt Center, Queens for Affordable Housing, Councilmembers Hiram Monserrate, John Liu and Tony Avella, ACORN, UNITE HERE and the New York Immigration Coalition developed a set of principles for Willets Point redevelopment:
Do right by existing businesses and workers
Make most of the housing affordable
Guarantee living wage jobs with targeted local hiring
Respect and connect surrounding neighborhoods
Provide the necessary physical and social infrastructure
These groups and leaders agreed that Willets Point redevelopment should only proceed if it can insure fair treatment of existing businesses and workers and guarantee substantial benefits for the residents of neighboring communities.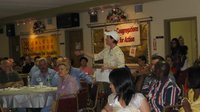 The Pratt Center facilitated a series of workshops in the communities neighboring Willets Point to identify issues that need to be addressed in the City's redevelopment plans.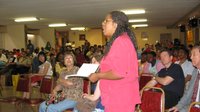 In June 2007 nearly 200 attended the first of these meetings, at St. Mark's AME church on Northern Boulevard in Jackson Heights. Small groups at 18 tables brainstormed possible scenarios for Willets Point in English, Spanish, and Mandarin. Residents of Corona, Flushing, Elmhurst and other neighboring communities weighed in, most vocally on the need for affordable housing, jobs that pay a living wage, and enough schools to accommodate a growing population. Local business owners and workers, who predominated at three tables, argued that they should be allowed to stay, and that their businesses could not survive relocation.