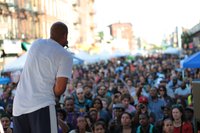 In the spring of 2011, Pratt Center for Community Development launched a two-year program designed to connect the arts and artists with our multi-layered work, helping New York City communities to become more environmentally sustainable. Supported by a grant from the Rockefeller Foundation's Cultural Innovation Fund, the Center has partnered with academic and community organizations to produce innovative culture, arts, media and organizing strategies that seek to engage neighborhood residents and artists to promote sustainable, environmental action. This project is a part of Pratt Center's broader goal to develop replicable models that will aid urban communities' efforts to become environmentally sustainable -- intensive work we are doing in partnership with nine different community organizations in all five boroughs of NYC.
Two of the groups Pratt Center has been working with are Bedford Stuyvesant Restoration Corporation (BSRC) and the Cypress Hills Local Development Corporation (CHLDC). For the past two years we've provided a broad range of technical assistance and support to their efforts to "green" their neighborhoods. With BSRC, the pilot program Retrofit-Block-by-Block encourages block associations, houses of worship, and other community groups to facilitate home and church weatherization and other actions that can reduce energy consumption and greenhouse gas emissions. CHLDC has launched Cypress Hills Verde, an effort to develop a community-wide sustainability plan where neighbors work together to identify and prioritize environmental issues and then generate creative self-help and government intervention strategies to improve their neighborhood.
Pratt Center's arts, culture and sustainability initiative was designed to enhance these efforts. The infusion of arts and culture is used to further engage and educate community residents by reinforcing and normalizing sustainable values and behaviors. Working together, CHLDC, BSRC and Pratt Center hope to spark a high level of community dialogue that gains momentum and excitement around sustainability concepts, as well as resident involvement in the efforts needed to generate sustainable communities.
To help identify artists and organize a major art exhibit, Pratt Institute's Initiative for Arts, Community and Social Change (IACSC) has also been engaged as a partner. IACSC is a collaboration of faculty and administrators who work together to support interdisciplinary activities that demonstrate the power of art and design as catalysts for social change. The group's expertise enhances the capacity of all of the partners in this venture.
Pratt Center is proud to have helped initiate the following events, funded by the Rockefeller Cultural Innovation Fund Grant, in collaboration with Bedford-Stuyvesant Restoration Corporation, Cypress Hills Local Development Corporation and its partnering organization Arts East New York (AENY): 
CHLDC'S ENERGY BLOCK PARTY
June 4th, 2011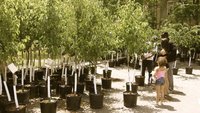 The Energy Block Party was a free, public event that provided an opportunity for Cypress Hills and East New York community members to learn useful information about reducing their energy use and lowering energy bills. Pratt Center assisted CHLDC and Arts East NY by providing art-based and sustainability-based resources to enhance the event's goal of an equitable, sustainable, and culturally vital community. As part of the Million Trees NYC Initiative, and in partnership with New York Restoration Project, CHLDC launched a 250 tree give-away. They brought community-based food educators, recently trained at East New York Farms, to conduct healthy cooking demonstrations. A children's art and education corner and community mural, planned in partnership with Arts East New York, explored sustainability issues in the community through art. The event also launched the Community Satisfaction Survey to assess residents' concerns in four topic areas: Living, Working, Eating and Learning. 
CHLDC'S VERDE! SUMMIT
October 22, 2011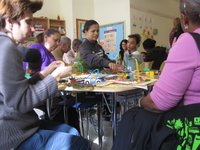 This community-wide event sponsored and planned by CHLDC, and attracting several hundred residents from Cypress Hills and East New York, included: workshops to discuss topics that reflect the results from the Community Satisfaction Survey, to prioritize and devise solutions for community concerns, as well as gather feedback on and identify strategic Brownfields Opportunity Areas (BOA) sites. Pratt Center assisted with event planning and workshop development, and incorporated arts elements throughout the program, including opportunities for residents to express their ideas through the City as Play 6-Step Design Workshop technique, through which community members utilized reused everyday materials – such as bottle caps and old Legos – to visually depict their ideal community. The Summit also included a community arts workshop, planned in partnership with Arts East New York, which included kids' arts activities facilitated by local artists. Each activity explored various aspects of what makes a neighborhood environmentally and culturally sustainable. Pratt Center was instrumental in providing the materials, staff and volunteers to make the Summit a success.
CHLDC + AENY'S SUSTAINABLE NEIGHBORHOODS DOCUMENTARY PROJECT
Fall 2011 
With funds from Pratt's CIF grant, CHLDC enhanced its sustainability work and connected it to the creative efforts of Arts East New York through the medium of film. Pratt supported the two organizations in their efforts to develop a series of documentary films by local filmmakers to increase awareness of sustainable community development in the Cypress Hills and East New York neighborhoods. CHLDC & Arts East New York produced short documentaries by filmmakers Hemamset Angaza and Paige Stewart, exploring Cypress Hills/East New York as a community on the rise highlighting the wants and needs of its residents and the efforts being made to improve quality of life. The objective of this project was to increase awareness of sustainable community development in the Cypress Hills and East New York neighborhoods through film as a creative, engaging medium. The short films were presented to the community upon completion.
AENY'S SUMMER SATURDAZE
July 9 to August 27, 2011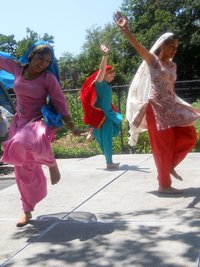 Arts East New York hosted Summer Saturdaze, a series of cultural events for East New York residents who have limited access to local arts resources. The events took place at the East New York Farms farmers market, and were designed to explore socio-economic issues through artistic interpretation as well as amplify local sustainability concerns in the community. Arts East New York produced eight events in partnership with Pratt Center and with additional support from the Brooklyn Arts Council and Citizens Committee for New York City. Pratt Center worked with Arts East New York to incorporate sustainability components into each event. For example, we included props and sets made out of recycled materials in a performance of The Wiz highlighting environmentally conscious behavior, and we coordinated with the Department of Sanitation to display prototype recycling collection bins at Caribbean Day.
BSRC'S YOUTH ARTS EDUCATION
Spring 2011 and Fall 2011
The Youth Arts Academy offered a twelve week multidisciplinary program for thirty, 2nd grade students from C.S. 21 & P.S. 93 twice a week. The program was designed as an introduction to environmental literacy with a focus on food. Through this program, students learned to respect and honor "Mother Earth" through explorations of the environment and perspectives reflecting attitudes and awareness in their own backyards, beginning in their home. Upon completion of the 12 week experience, students were left with the knowledge and tools necessary to continue their exploration of sustainability and are empowered to make a difference as young environmentalists for a brighter tomorrow.
BSRC'S RESTORATION ROCKS
October 8, 2011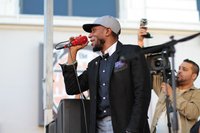 The year 2011 marked the 5th Annual Bed-Stuy Alive! Festival, a week-long neighborhood celebration, which promotes and inspires community sustainability through the theme of "Bed-Stuy Alive! Live Healthy, Live Well, Live Green." Restoration Rocks was the kick-off event of Bed-Stuy Alive! and took place on Fulton Street between Brooklyn and Marcy Avenues, in the heart of Bedford-Stuyvesant Brooklyn. Restoration Rocks featured live cultural performances from local schools and community organizations as well as a free day-long music concert of some of the most dynamic emerging and established artists performing on the Brooklyn stage, highlighting the rich culture and vibrancy of the Bed-Stuy community. This year's performance lineup included: Mos Def & the Brooklyn Philharmonic, Homeboy Sandman, Joel Ortiz and Pharoahe Monch and more. In addition to music and dance, the free outdoor neighborhood celebration included an awards presentation honoring some of Bedford Stuyvesant's community legends. Local small businesses and sustainability-related community organizations hosted information booths at the event focused on community sustainability in Bedford-Stuyvesant.
AMPLIFY ACTION: SUSTAINABILITY THROUGH THE ARTS
April 20, 2012
"Amplify Action: Sustainability through the Arts" will be presented in Spring 2012 by the Skylight Gallery, a part of BSRC's Center for Arts and Culture. The exhibition is conceived to demonstrate how arts, culture and media are powerful catalysts for social change and aims to engage neighborhoods in a dialogue about sustainable living, making healthy consumer choices, and taking environmental action. Works in the exhibit will directly and indirectly examine the different components of sustainability such as, but not limited to: ecology, economy, equity, environmental consciousness, resource conservation and efficiency, agriculture, architecture, infrastructure, environmental justice and health.