As Sunset Park awaited the results of a City zoning study in 2007, Pratt Center worked with Councilmember Sara Gonzalez and Community Board 7 to convene a community education workshop and two community conversations in order to help residents of Sunset Park weigh in on current development and a potential rezoning. Pratt Center prepared a report, Sunset Park Voices in the Rezoning Process, which provides a summary of the issues and perspectives raised, along with some analysis of related issues by Pratt Center.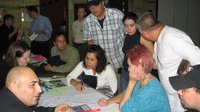 The project had its roots in a grassroots campaign waged by area residents, who successfully lobbied against one developer's plans to construct a twelve-story building on a side street in the neighborhood. After convincing the developer to significantly scale down plans, residents recognized the larger need to rezone the neighborhood, where new development currently faces no height restrictions. The community momentum around rezoning also presented an opportunity to address pressing related issues, notably the need to preserve and create affordable housing.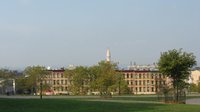 Pratt Center prepared a report, Sunset Park Voices in the Rezoning Process, which summarizes feedback from these community conversations, and provides analysis of related issues. Community members were united in their goals to:
Prevent out-of-scale development
Preserve and create affordable housing
Preserve the view from Sunset Park, a neighborhood treasure
Reduce commercial overlays from 150' to 100'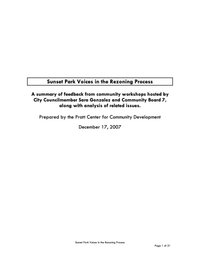 Downloads
However, there was not consensus on the best way to achieve the preservation and creation of affordable housing. Some residents supported the idea of additional density on one or more of the neighborhood's commercial avenues to generate affordable housing. Other residents and community organizations, however, fear that upzoning avenues that include rent-stabilized housing might displace low-income residents and eliminate more affordable housing than it would create. Our report explores these issues and analyzes several options.