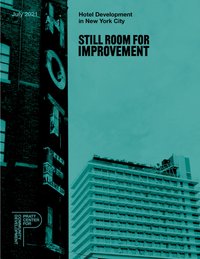 Downloads
Still Room For Improvement examines some of the land use impacts of hotel development in New York City, including how the COVID-19 pandemic may impact future development. Still Room reaffirms Pratt Center's earlier recommendation—first articulated in Room For Improvement (2015)—that the City create a special permit process for hotel development based on a variety of land use conflicts between hotel development, affordable housing, and the preservation of older office and industrial space.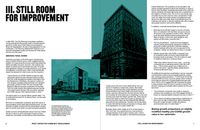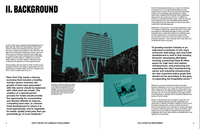 This new report finds that:
Unregulated hotel development continues to lead to significant land use conflicts with the surrounding community such as noise, traffic, sanitation and overcrowding complaints and can alter neighborhood character.
The boom-bust nature of the industry is leading to additional conflicts as vacant or underutilized hotels are clustered in some areas and are now being used for homeless shelters without adequate services for the homeless. If vacant hotels are to be used for housing, there needs to be greater planning, commitment of public resources and other public interventions to assure that the residents are properly served. The use of hotels for sheltering the homeless is a symptom of the distinct and urgent need for more affordable housing, a persistent challenge for the City that requires greater financial resources and political attention.
While tourism is critical to the city's economy and to the city's stature as a center of cultural creativity (driven by art and entertainment tourism) the growth rate in demand for hotel rooms is uncertain.The future of business travel is particularly uncertain given the surge in working remote during the pandemic which accustomed workers to virtual meetings and operations.
The remaining possible deficit of hotel rooms is not solely a land use challenge but reflects the dynamics between hotel development and financing which is beyond land use strategies to address.
The special permit should move forward on a citywide basis. This will not only reduce the potential for conflict but create a mechanism for fostering local employment. Reducing the geography of the special permit to facilitate development in some areas (most likely Manhattan) would risk the unintended consequence of undermining tourism in the areas that remained covered, most likely in Brooklyn, Queens, Staten Island and the Bronx, reversing decades of City efforts to stimulate tourism and economic development outside of Manhattan.
The City should work with the hotel industry to develop other interventions to address any potential deficit in hotel rooms.