Made in NYC is a Pratt Center initiative that supports local manufacturers and makers by giving them marketing and branding resources, valuable skills-building opportunities, and access to a supportive community of peers within the sector.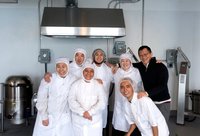 New York City is home to almost 6,000 small manufacturers employing approximately 72,000 people. They make everything from pianos (Steinway in Queens) and landing gear for spacecraft (Vahl in Brooklyn) to food, fashion, and furnishings.
The manufacturing sector is a proven source of good jobs for individuals with limited education and other barriers to employment. Made in NYC enhances the capacity of the manufacturing sector to create jobs, foster entrepreneurial innovation, and catalyze sustainable local markets.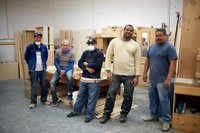 Made in NYC offers access to promotional platforms including a robust company directory at madeinnyc.org,  Instagram, Twitter, Vimeo, and Facebook.
The Made in NYC Learning Lab provides learning opportunities and creative services to guide Made in NYC manufacturers towards smarter marketing and branding strategies, practices, and outputs.
A quarterly networking series, Made Here/Meet Here, brings events to all five boroughs to build community, instill pride in being a New York manufacturer and foster commitment to being a high-road employer.
By providing companies with the tools to help them tell their own story of resilience, we have retained jobs, built community and bolstered the local economy.
Made in NYC launched in 2003 with a membership of just under 200 companies, now we are 1,600 strong and counting
Nearly 70% of new Made in NYC members (since we began tracking this data in 2018) self identify as Minority- or Women-owned Business Enterprise (MWBE)
During COVID-19, NYC's manufacturers pivoted. 60+ Made in NYC members now create PPE for frontline and essential healthcare workers.  
When the 2020 Black Lives Matter protests began, Made in NYC coordinated 1,625+ units of masks, face shields, and hand sanitizers to those in need.