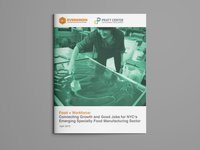 "Food + Workforce: Connecting Growth and Good Jobs for NYC's Emerging Specialty Food Manufacturing Sector", seeks to understand the specific workforce opportunities created by the growing specialty food and beverage manufacturing sectors and identifies strategies to ensure these businesses can remain and thrive in New York City. This study was commissioned by Evergreen Exchange (formerly EWVIDCO), a membership organization that champions manufacturing, creative production, and industrial service businesses in North Brooklyn and beyond.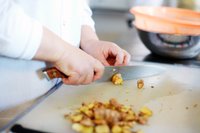 New York City has always been known for its varied and innovative food culture. In recent years, a growing, eclectic mix of artisanal food and beverage manufacturers is further enhancing this reputation by incubating businesses based on new products ranging from cocktail mixers to vegan cupcakes to handmade salsas. New and exciting brands regularly fill the shelves of local specialty stores, and events celebrating local foods and food cultures abound. Between 2009 and 2013, 1,294 food and beverage manufacturers opened for business in the five boroughs. Many of these companies are now approaching the 3 to 5 year age range, a critical time for business growth and expansion. They face numerous challenges as they look to mature and scale up their food manufacturing ventures.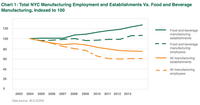 Findings
The study's research is grounded in a survey of 45 small, specialty food and beverage manufacturers and dozens of in-depth interviews with manufacturers, workforce organizations and industry stake- holders. Specifically, we found that the emerging specialty food sector is:
Largely comprised of companies 3-5 years old, a critical time for companies attempting to scale.
Less diverse than the overall food and beverage manufacturing sector.
Generally optimistic about growing in NYC.
Expecting to double employment within three years, and will increasingly prioritize English skills for new hires.
Increasingly facing difficulty finding new employees as the owners' personal networks are no longer meeting their growth requirements.
Not adequately connected to NYC's large workforce development  infrastructure despite the sector's need to find new, qualified employees.
Recommendations
To address these barriers and capitalize on the opportunities of this vibrant sector we recommend city agencies, the city's Industrial Business Service Providers and local workforce organizations work together to:
Promote a diverse workforce by forging relationships between workforce providers and food and beverage manufacturers.

Create policies and programs to help companies grow past the critical 3-5 year stage so they can scale up and provide quality employment.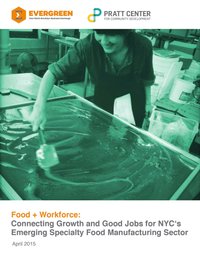 Downloads