In 2016, Pratt Center guided members of the FM-CP Alliance Community Advisory Board (CAB) in the development of its mission, organizational structure, and first-year goals. Pratt Center facilitated a months-long process of soliciting input from CAB members through meeting activities and interviews, and researched relevant case studies and best practices. The report, "Stewardship of Our Community Park," provides the CAB with recommendations on how the organization can engage the broader community to best guide the Alliance around important community priorities.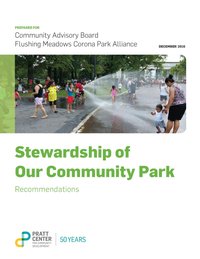 Downloads
The largest park in Queens and the fourth largest park in New York City, Flushing Meadows Corona Park (FMCP) spans 897 acres and is home to several important cultural institutions. Surrounded by the most diverse neighborhoods in the City, FMCP serves as an important resource for communities living near the park with limited access to open, green space.
The Flushing Meadows Corona Park Alliance, a not-for-profit organization with a 15-member board, was established in 2015 to raise funds for the maintenance and improvement of the park. An independent Community Advisory Board (CAB), comprised of community and civic organizations, was established shortly thereafter to elect a representative to serve on the Alliance's board of directors.