The Equitable Innovation Economies Initiative (EIE) was a multi-year project launched by the Pratt Center for Community Development in collaboration with PolicyLink and the Urban Manufacturing Alliance to help cities pursue more inclusive growth strategies in innovation and manufacturing.
Through a community of practice model, four cities—Indianapolis, New York City, Portland, OR and San Jose, CA—worked together to identify and address barriers in their economic development strategies. Together, these cities prioritized equity objectives, refined programmatic approaches, and tracked the impacts of their efforts to advance more equitable outcomes.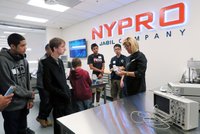 Cities across the U.S. are increasingly focusing their economic development efforts on innovation to spur economic growth. Investments in these assets—from advanced manufacturing technologies to tech firms to makerspaces—may grow businesses and create new jobs, but can also exacerbate inequities in cities already facing widening economic and racial disparities By 2044, the United States will be a majority people-of-color nation. Excluding people of color from the innovation economy will be both an obstacle to the nation's growth and a tremendous injustice.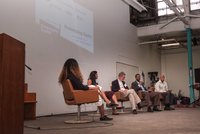 The EIE city snapshots capture candid perspectives from the four pilot cities that engaged in this work over the course of two years (2014–2016). Each story documents the motivations behind each project, including the participants' perspectives on the equity imperative in their city. Each snapshot recounts the successes, lessons learned, and challenges from each city, and illustrate that while each of these projects is moving forward, implementation can be hard and unpredictable. Each project evolved during the pilot, due to shifting political administrations and other factors, and will continue to adapt to local constraints.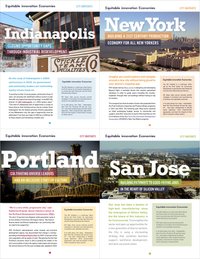 The Prototyping Equity Report provides an account of the first two years of the EIE: why we launched it, how these cities collaborated to embed equity into their economic development programs related to manufacturing and innovation, and what we have accomplished and learned along the way. We hope it will spark conversation and inspire action to drive more inclusive growth in cities across the nation.