Pratt Center is a leading advocate for BRT—a low cost approach to shortening commutes for thousands of New Yorkers and closing disparities in transit access. As opposed to large-scale subway and commuter rail projects, BRT makes better use of infrastructure we already have—our streets—and delivers mobility to underserved neighborhoods at a cost of millions, rather than billions, per mile.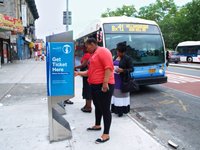 For most low- and moderate-income communities throughout New York City, limited access to public transportation remains a considerable challenge. Although the city's economy is dependent on its strong public transit system, workers in densely-populated peripheral areas often cannot efficiently access places of employment and other much-needed economic opportunities. Over 750,000 New York City workers commute over an hour each way to work, with two-thirds of these individuals traveling to jobs where they earn less than $35,000 annually. Furthermore, many low-wage service and blue-collar workers need to access jobs outside of Manhattan's Central Business District in communities without immediate access to the subway system.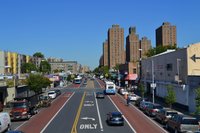 Pratt Center was instrumental in the development and growth of Bus Rapid Transit across New York City. In 2006, we mapped underserved residential communities and outer-borough employment centers, and documented racial and economic disparities in commuting times of New Yorkers. We utilized this information in convening the Communities United for Transportation Equity (COMMUTE!) coalition, which called for the engagement of local stakeholders in transit equity efforts, educated elected officials about BRT's benefits, and built a robust base of political support.
COMMUTE members included:
Since 2008, the MTA and NYCDOT have made demonstrable progress toward developing a citywide Bus Rapid Transit (BRT) network. As part of their Select Bus Service (SBS) program, this BRT network is comprised of 16 bus routes in all five boroughs that utilize off-board fare collection, bus-only lanes, signal prioritization and targeted bus stops to improve transit time.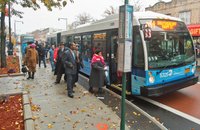 After the City launched SBS, Pratt Center has continued to advocate for full-fledged BRT. Through extensive outreach, education and mobilization, we worked to maximize community participation in the MTA and NYCDOT's planning workshops for new SBS routes, and ensured that local stakeholders had a meaningful voice in the development of their community's transportation infrastructure.