Transportation Equity and the Future of the Brooklyn-Queens Expressway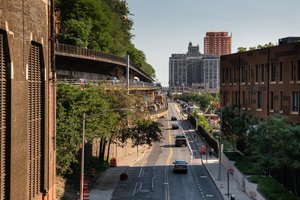 Pratt Research and Strategic Partnerships presents:
A panel discussion on the future of the BQE featuring:
Henry Gutman, former Commissioner, Department of Transportation, and current Chair, Brooklyn Navy Yard
Tiffany-Ann Taylor, Vice President for Transportation, the Regional Plan Association and Pratt Alumna (MS, City and Regional Planning, '14)
Stephen Nessen, (moderator), reporter, WNYC News
Lena Afridi, Interim Director, Pratt Center for Community Development, will provide a brief introduction 

The profound problems facing the deteriorating Brooklyn-Queens Expressway (BQE) are as urgent as any other challenges currently confronting the city. What conflicting concerns are preventing crucial policy development that could address this critical situation? And how does the crumbling infrastructure of the BQE encapsulate the issues inherent in creating an equitable system of transportation? Join us for a discussion exploring these and other pressing questions as we discuss the BQE, the operational and political issues surrounding decision-making about the city's infrastructure, and how these decisions can have dramatically different racial and socio-economic impacts.

This event is part of Pratt Institute's new Design Equity initiative, a provocative series of discussions and events dedicated to shaping a sustainable and just future in New York City (and beyond). As we move out of the pandemic and into a new chapter, how will civic and creative leaders effect positive change in arenas such as housing, climate resilience, education, and more. Design Equity will also highlight the ways in which Pratt's faculty and alumni bring their creative education and community-first approach to spark change and create a more just and sustainable tomorrow.