Stop Asian Hate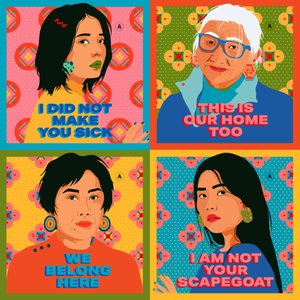 The illustrations above were created by multidisciplinary artist Amanda Phingbodhipakkiya (alonglastname.com), who is currently in residence with the NYC Commission on Human Rights.
On Tuesday evening in Atlanta, a gunman killed eight people, six of whom were women of Asian descent. This was a horrifying escalation of racist attacks against Asians, Asian Americans and Pacific Islanders across the United States. There were at least 3,800 recorded hate incidents targeting AAPI individuals and communities this past year. While these attacks reflect misdirected anger and blame for the Covid-19 pandemic, they are part of an increase in violence, harassment and discrimination against Black, Muslim, Jewish, LGBTQ+, immigrant and other communities that have historically been targeted and dehumanized as "other." 
Hatred and violence towards the other have been forever part of American history, often glossed over through denial and contorted justification. But today, hate has increasingly been legitimized as a tool of political speech, action and repression.
During these moments when racial violence is emboldened and uncontrolled, some have asserted that violence is "not who we are" in order to inspire a higher standard. But racial violence is obviously a part of our past and present and was on full display on Tuesday. It is who we are—until we forcefully and universally condemn that violence and its lesser gradations and labor to dismantle the systems that normalize it.
We as planners must help people recognize that corrosive world views and the desire of some to rid themselves of other people's existence are morally abhorrent and will ultimately destroy us because we all share neighborhoods, subways, parks, cities, and a planet in common. Our practice as planners is not only to open up the process of planning, but to open up ourselves and other people to listen, empathize and understand, in all our hearts and minds. 
In love and solidarity,
The Pratt Center Team
Resources
Asian American Federation provides safety resources for potential victims of anti-Asian racism, as well as means to report and document anti-Asian hate crimes. Please consider donations to help the AAF in their work with civic engagement, mental health resources, research and more. 
The AAF is holding a Peace Vigil for Victims of Asian Hate in Union Square today, Friday, March 19 at 6 p.m. (masks and social distancing required).  
CAAAV Organizing Asian Communities, founded in 1986 as the Committee Against Anti-Asian Violence, is a pan-Asian community-based organization that works the build the power of low-income Asian immigrants and refugees in New York City. Click to donate and learn more. 
The City of New York has developed a resource guide: Stop COVID Hate: A Toolkit for Addressing Anti-Asian Bias, Discrimination, and Hate. 
The NYS Attorney General launched a hotline to combat Coronavirus hate crimes and xenophobic rhetoric.