Commitment through Action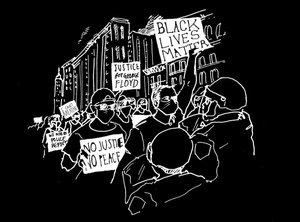 To create the anti-racist world we want to see requires love, unrelenting commitment and ongoing practice. Any statement is only as good as the practice that follows.
We are in a flashpoint in the centuries-long movement for racial justice. Frontline organizers have galvanized the national attention towards the recent murders of George Floyd, Breonna Taylor, Tony McDade, and Ahmaud Arbery and the unconscionable chain of violence that preceded them. Grossly meager responses from governments across the country to the specific circumstances of their murders are insufficient to provoke the paradigm shift that we need to dismantle the rampant injustice and inequity, borne of white supremacy, that permeate our society.
Racialized murder at the hands of the police is occuring as communities are reeling from the disproportionately fatal impact the COVID-19 pandemic is having on Black, Indigenous, and communities of color, making salient to all that the violence of racist policymakers continues to kill Black Americans centuries after the first enslaved Black person set foot in the Americas. 
We stand in solidarity with Black communities and their allies exercising the right to protest.
Pratt Center, since our inception in the 1960s and continuing today, exists to be an accomplice in dismantling white supremacy as part of a movement, and to lift up and support the leadership of frontline communities who define the questions and the solutions. We believe in the power of organizing, and our work has always been centered on building political power to implement the plans envisioned by communities of color. 
An organization's commitment cannot stand apart from the commitment and practices of its staff and the institution of which it is a part.  As an organization whose senior management is predominantly white and which is part of a predominantly white institution occupying space in the historically Black neighborhood of Clinton Hill, we too have work to do. 
In the last several years, we have been examining racial justice in all elements of our policies and programs and learning from other organizations in pursuit of a workplace that is authentic to the values of equity and justice embedded in our mission. Solidarity is a practice that can and must continue to be deepened. Our work, internal and external, to fulfill our commitment is ongoing.  
In the upcoming months, we will continue to advance our internal structural work as we methodically highlight frontline community efforts and resources for action. We will examine and share the ways that our partnerships and programs can magnify the focus on racial justice. 
We are honored and humbled to work within an amazing community of organizations, activists, and neighbors to think beyond "traditional planning narratives" to make this city a more just, equitable, and sustainable one for all New Yorkers. 
We stand in solidarity with the movement for Black lives,
- The Staff at Pratt Center for Community Development