Pratt Institute Libraries Unveils Pratt Center Archives
Covering nearly fifty years of archival materials, the recently processed archive will be an indispensable resource for historical work concerned with social justice, urban history, and community-based activism in New York.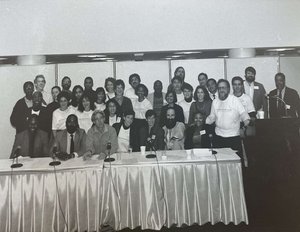 Group photo for the Pratt Center's 25th Anniversary Conference Uprooting Poverty Through Community Development in 1990.
Over 60 linear feet of archival materials were processed by Jack O'Malley, Pratt Center's Archives Administration Fellow to aid those whose scholarly interests would benefit from the study of Pratt Center's nearly sixty years of community-based planning and advocacy work in New York City. The archiving of the Pratt Center's papers, photographs, architectural renderings, plans, and more was supported by the New York State Archive's Documentary Heritage Program. The collection is held and preserved by Pratt Institute Archives.
"Processing this collection certainly taught me a lot about the history of New York City, its constituent communities, and the challenges they have faced historically (and now)," says archivist Jack O'Malley in a blog for Pratt Libraries, "It can provide lessons in best practices for anyone interested in community development or collaborating with community organizations, and I hope it might serve as an example for the design of community-centered programs and projects. Finally, anyone interested in researching the history of community development in New York City, even more broadly than through just the lens of Pratt's involvement, will find this collection an invaluable resource."
Notable highlights of the Pratt Center collection include:
Records of Pratt Center's previous reports and plans since our founding, displaying the contours of New York City politics and grassroots activism throughout the decades.
Oral history transcripts with early leaders and participants of the community development movement reflecting in the early 90s. 
Educational and outreach materials, showing a rich body of community-minded visual communication.
To access the Pratt Center archival collection, click here.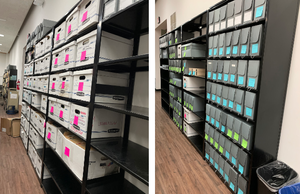 Left: Records of the Pratt Center housed in banker's boxes prior to processing. Right: Fully rehoused collection. The last step will be to label each box.