Out of the Box: Empowering Community, the Birth and Future of a Movement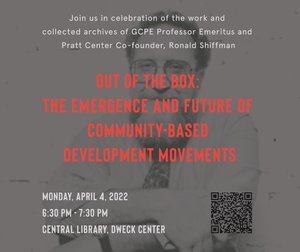 The Emergence and Future of Community-Based Development Movement
In 1964, Ron Shiffman co-founded the Pratt Institute Center for Community and Environmental Development (known today as the Pratt Center for Community Development). The following year, Shiffman, in partnership with the Central Brooklyn Coordinating Council and Senator Robert F. Kennedy, assisted in the conception and launch of the Bedford Stuyvesant Restoration Corporation, the country's first community development corporation (CDC).
The Center for Brooklyn History is marking Brooklyn Public Library's 125th Anniversary with a special series showcasing their remarkable archives and collections. Among them, the Ronald Shiffman collection on the Pratt Center for Community Development contains a wealth of material pertaining to this initial CDC as well as broad topics of community planning and housing programs and policies.
Join archivist Maggie Schreiner for an overview of the important documents held by CBH followed by a conversation about the future of the Community-Based Development Movements with Ron Shiffman, LISC NYC Deputy Director Eva Alligood, President and CEO of Bedford Stuyvesant Restoration Corporation Colvin Grannum, and New York Community Trust Program Director Patricia Swann. Moderated by New York Times architecture critic Michael Kimmelman.
This program is offered in partnership with Pratt Institute Graduate Center for Planning and the Environment and the Brooklyn Public Library.