News from Pratt Center: May 2021
A DATA ROADMAP FOR NYC SOCIAL IMPACT ORGANIZATIONS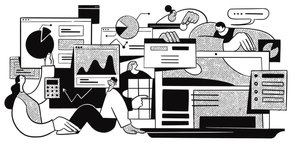 Pratt Center's work to democratize data access and build the data fluency of organizations in New York City is shifting and expanding in the months ahead. Building on the success of our annual Neighborhood Data Portal training, and with support from the New York Community Trust, Pratt Center is conducting interviews with staff at multiple organizations to identify common areas of need that will inform the roll out of a range of new training workshops and tools. 
This work is being led by our Democratizing Data Researcher, Taylor McGinnis, who rejoins our team after serving with NYC Planning Labs as a programmer and product manager for three years, and prior to that, as Pratt Center's Data/GIS Fellow. Taylor brings a tremendous combination of hard and soft skills to this work, as well as a commitment to user-based research and design that has many parallels to our community-based planning work.
In a conversation earlier this month, she shared with us about how a user-centered approach is guiding her research and development of new training curriculum: "I'm taking a no assumptions approach, starting from scratch. If I don't have evidence to make a decision, I'm not going to make that decision. It's about seeking to understand both your audience and the data and how the data connects to the audience" Read the full interview
To stay informed about future data training opportunities from Pratt Center, be sure to sign up for our Events & Trainings email updates→
INTRODUCING...

We're thrilled to introduce three new members of our team: Taylor Novick-Finder, Taylor McGinnis and Daphany Rose Sanchez. 
Taylor McGinnis rejoins Pratt Center as our Democratizing Data Researcher after having served with us as a Data and GIS Fellow back in 2018. In this new role, she will conduct strategic research, and host trainings for community-based organizations on how to best collect, analyze, and incorporate data into their daily efforts. Before returning to Pratt Center, she worked as a software developer and technical product manager at NYC Planning Labs, where she helped to design, build, and maintain online data-sharing applications focused on city planning issues, including NYC's Zoning and Land Use Map (Zola), NYC Population Factfinder and the Zoning Application Portal (ZAP) Search. Taylor's full bio
Taylor Novick-Finder recently stepped into the Made in NYC Program Coordinator role after spending over a year with the Made in NYC team as a Graduate Fellow. In this new role, Taylor will engage with Made in NYC members, coordinate events, and cultivate and oversee new partnerships. Taylor is passionate about building, maintaining, and enforcing systems that truly help sustain our communities in a holistic, just, and equitable manner. Taylor is a recent graduate of Pratt Institute's Master of Science in Sustainable Environmental Systems. Taylor's full bio
Daphany Rose Sanchez is a longtime collaborator who is now joining Pratt Center as a Senior Fellow. She brings deep experience working for equity across the energy, sustainability and affordable housing sectors. As Senior Fellow, Daphany is providing outreach, facilitation and other strategic support across a variety of projects at the Center including resident engagement for NYCHA's Sustainability and Climate Adaptation plans. Daphany founded Kinetic Communities Consulting in 2017 to address the representation gap in the energy sector and has since earned numerous awards and accolades for her work ensuring front line communities and people of color are engaged in a just clean energy transition. Daphany's full bio
PROJECT UPDATES
ANNOUNCING THE NINTH ANNUAL TACONIC FELLOWSHIP 
Pratt Center is now accepting applications for the ninth cycle of our annual Taconic Fellowship. The Taconic Fellowship supports Pratt Institute faculty, staff, and students working on community development projects throughout New York City. Selected Fellows Receive:
Up to $12,000 in financial support for their community-serving project
Specialized training of best practices in community development
Ongoing project support
Access to a network of emerging and established community-development practitioners. 
WHAT WE'RE READING