News from Pratt Center: July 2022
Table of Contents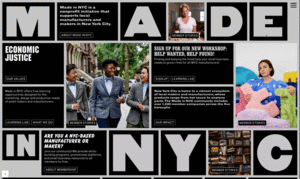 1. MADE IN NYC REINVENTS A BOLD IDEA
Two decades ago—when the internet was new and New York City's industrial sector was still reeling from the economic dip following 9/11—Made in NYC was launched as a website directory of local manufacturers for New Yorkers to use to help the city recover by shifting their purchasing patterns toward local manufacturers and locally made goods. 
Ten years later, Made in NYC joined the Pratt Center for Community Development to augment our work in industrial policy advocacy in the aftermath of the Great Recession, serving manufacturers and makers of this city to work towards a more equitable and sustainable future for local manufacturing. 
It has been a beautiful union. Together, as one, we fought off the encroachment of hotels, self-storage facilities, and offices into industrial zones; lended our land-use expertise to develop thriving industrial communities; and tapped into the creative expertise of Pratt Institute to grow the marketing capacity of the city's manufacturers. We've seen the growth of the Made in NYC community as well, from a few hundred companies in the early 2000s to over 1,500 companies in our membership today.

Today, as we face another recovery from the ongoing COVID-19 pandemic, we're still committed to this idea that cultivating a local, diverse economy marked by thousands of small manufacturing and maker businesses matters for the wellbeing of the city.

Which is why earlier this year, we introduced a new identity and website for Made in NYC, as a platform for telling the stories of our members, and helping the city recover yet again. 

Inspired by one of New York City's many notable manufacturing inventions—mass production of woodcut type—Made in NYC's new visual identity is a modular and flexible graphic system where the diverse voices of NYC makers can come together. Underneath it all is a new system that makes it easier for consumers and supporters to learn about our work, and for new companies to join the community. And there's much more to come later this year.

Here's to another twenty years.
2. POLITICS IS VERY FASHIONABLE
Fashion businesses make up about a quarter of all of Made in NYC's membership — and it is for that reason we are incredibly invested in the well-being and future of garment manufacturing in the city. 
Two months ago, the Pratt Center for Community Development threw our support behind the FABRIC Act, also known as the Fashioning Accountability and Building Real Institutional Change Act. The first federal fashion bill introduces sweeping new workplace protections and manufacturing incentives that would deeply impact our membership as well as 180,000 New Yorkers who have built a livelihood around the city's fashion industry.
We've gotten to know these New Yorkers pretty well over the past couple years through our collaboration with the Garment District Alliance.
We would love to introduce a few of them to you.

This summer, Made in NYC is highlighting eight Garment District factories, companies that are paving the way with creativity and perseverance. New York City's Garment District has for centuries been a place for innovation and opportunity. Generations of New Yorkers, many of them immigrants, have practiced their craft in bustling Manhattan factories, producing world class garments that have positioned New York City as the fashion capital of the world. Today, the Garment District continues to serve as the central hub for the city's apparel manufacturing sector. The featured companies vary greatly from cut-and-sew and sample making to bespoke handbags, as well as specialty services like surface embroidery, sweater knitting, and grading and marking.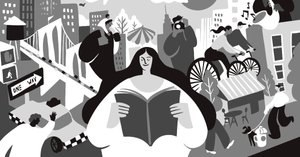 3. PRATT CENTER IN THE NEWS
CBS | In Response to Arrival of Hurricane Season, Mayor Eric Adams Unveils Rainfall Ready NYC Plan
Policy Program Manager Sylvia Morse raises concerns about municipal inaction on protecting basement tenants.
CITYLAB | How to Make New York a City of Dreams for Black Women
Senior Planner Tara Duvivier dares us to imagine a city that allows Black women to thrive instead of squeezing them out.
4. WHAT WE'RE READING
The Legend of Leh-Boy
7/10/2022 | Hellgate
Pratt Center loves love letters to beloved characters of New York City. If you've walked down Atlantic Ave, you've definitely seen him. Now it's time to get to know Leh-Boy.
Reconsidering Celebrations at Sites of Enslavement
7/15/2022 | National Trust for Historic Preservation
Is it liberation to throw a plantation-themed wedding? No. So what else can we do with the thousands of plantations and other sites of enslavement to develop a landscape that can actually advance racial justice?
We've Surrendered the Subway to the Flood
7/19/2022 | Curbed
In the war against climate change, our subways are losing. What needs to change before rising tides takes all of us off the tracks?
He Runs a New York Real Estate Empire. Did He Steal It?
7/24/2022 | New York Times
We know that "homeowners across the city say they were swindled out of their properties," but what's preventing the City from delivering justice back to deed theft victims?