Made in NYC Week 2021 runs from October 1–9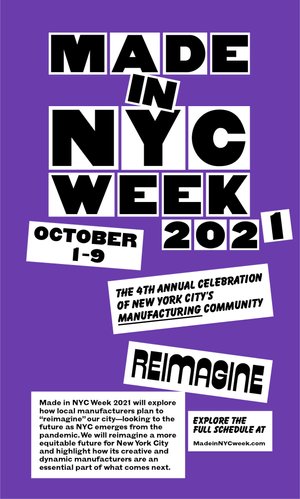 FOR IMMEDIATE RELEASE
Made in NYC Week 2021, the 4th annual celebration of New York City's manufacturing and maker community, will reimagine a more equitable future for New York City and highlight how its creative and dynamic manufacturers are an essential part of what comes next.
Made in NYC Week 2021 runs from Friday, October 1 to Saturday, October 9, 2021, and will feature pop-up markets and digital dialogues spotlighting locally-made products and the stories of the people who make them.
"The manufacturing sector is crucial to reimagining a more equitable future for New York City, especially as we continue to navigate the COVID-19 pandemic," said Joanna Reynolds, Made in NYC's Associate Director. "Local businesses have changed the way they make, design, and work towards building a more sustainable local economy."
This year Made in NYC is collaborating with established local market and retail partners to help reopen the city through pop-up markets touching down in every borough. Made in NYC member businesses will pop up to sell their products at FAD Market, Grand Bazaar NYC, The Bronx Night Market, NYC Brewers Guild Blocktoberfest, Lockwood, and Van Duzer Artisan Market. Shoppers can explore neighborhoods from the Bronx to Staten Island to browse and buy high-quality, locally-made goods directly from their makers. Explore the boroughs while stocking up on hot sauce from Cantina Royal Hot Sauce, sipping beer from Talea Beer Co., shopping soap from Bubbly Moon Naturals, and more. 
Take it slow on the weekdays and tune in from the comfort of your couch to two digital dialogues: Local Making Reimagined, which will discuss how NYC's manufacturers are reimagining the future of local making through innovation, and Stories From The Homefront, a unique showcase of the complexities and benefits of home-based production.
"Made in NYC Week is here, and it is time to celebrate New York City's vibrant manufacturing community. New York City's manufacturers and makers continuously provide innovation and creativity to the greatest city in the world, and during the COVID-19 pandemic, they proved to be invaluable by quickly pivoting to produce essential goods like masks and hand sanitizer. I am grateful for New York's manufacturers, and thank Made In NYC for supporting the maker community and their work," said Council Member Antonio Reynoso.  
Launched in 2003 to help companies recover after 9/11, Made in NYC is an initiative of the Pratt Center for Community Development that provides skills-building opportunities, marketing services, promotional platforms, and small business assistance for free to over 1,500 local manufacturers and makers in New York City.
Made in NYC also maintains a close connection to the city's creative and design community. "The importance of design is critical to NYC and directly impacts its creative economy," said Frances Bronet, the President of Pratt Institute which is the home of Made in NYC. "Made in NYC manufacturers are creative investigators; they are innovative problem-definers and problem-solvers. They transform ideas into real products which people use to improve their lives."   
"As borough president, I've been proud to promote maker space and manufacturing uses through the land use process and our capital investments, ushering in exciting new projects like New Lab in the Brooklyn Navy Yard and the Greenpoint Manufacturing and Design Center. The results speak for themselves: Over the past decade, Brooklyn's innovation economy has grown by more than 350 percent. These burgeoning industries took a major hit from COVID-19, but we must redouble our efforts to expand them in a way that centers equity and inclusion. Made in NYC Week will spotlight the exciting new industries powering our city's manufacturing renaissance, a critical component of our economic recovery," said Brooklyn Borough President Eric Adams.
Made in NYC Week 2021 is generously sponsored by the New York City Council, Brooklyn Navy Yard, WDI, Con Ed, Adafruit, GMDC, LISC NYC.
For more information about Made in NYC Week 2021, visit www.MadeinNYCWeek.com.
About Made in NYC:
Made in NYC is a non-profit that supports local manufacturers and makers in New York City. We provide skills-building programs, marketing services and promotional platforms, and small business assistance and resources for free to the Made in NYC community. We build a strong community of makers, facilitate local collaborations, and advocate for manufacturing in the City.
Learn more at MadeinNYC.org
About Pratt Center:
Made in NYC is an initiative of the Pratt Center for Community Development, a community-driven planning and development organization that works for a more just and sustainable New York City in partnership with community-based groups, small businesses, and the public sector. Pratt Center is a part of Pratt Institute.
Learn more at PrattCenter.net