Mayor's short-sighted cuts forfeit opportunity to create up to 200,000 basement apartments in NYC
Only months ago in his State of the City, Mayor de Blasio was heralding basement apartments as "the key to unlocking more housing for New Yorkers." Now in the wake of COVID-19, he is putting the East New York Basement Pilot on the chopping block to save a mere $1.09 million. This is a drop in the bucket for the city budget, but would amount to the erasure of an innovative affordable housing tool promised to the East New York community.
It's not just East New York that could lose out. If this pilot goes citywide, over 200,000* buildings could potentially have legally-recognized basement and cellar apartments, providing safe, healthy and affordable housing for immigrants, essential workers, low-income households and communities of color. Imagine a city where even 25% of those homeowners convert their basements - that's 50,000 new affordable, safe apartments!
Tenants unable to find legally-recognized housing that's affordable have been living in basement apartments for years. Homeowners struggling to make ends meet have found relief by renting their basements. Destroying the long-term potential of the basements pilot denies the lives of these individuals, their very real needs, and the lack of housing opportunity currently available to them.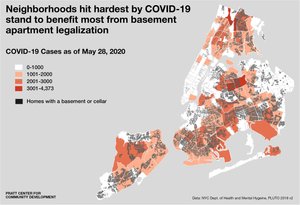 The racialized health impacts of COVID-19 are compounded by these housing vulnerabilities. Even as laws are passed to protect other tenants, basement tenants remain vulnerable to DOB vacate orders, putting them at risk of overcrowded living situations or homelessness. Overcrowding greatly reduces people's ability to safely shelter-in-place, making it all the more important to use every tool at our disposal—including basement apartments—to create more affordable housing in disproportionately impacted neighborhoods.
The BASE Campaign is advocating and building support to restore the previously promised funds for the East New York Basement Apartment Conversion Pilot Program. 
You can help by telling your Council Member to Save the East New York Basement Pilot.
Follow nyc_base on Twitter  |  #SaveBasementPilot