Visioning Corona Plaza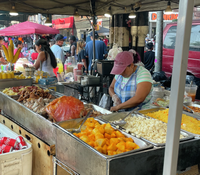 During 2020, at the height of the COVID-19 pandemic, a dramatic transformation took place at Corona Plaza, a small public space in Corona, Queens at Roosevelt Avenue and 103rd Street. About 100 street vendors, many of them newly unemployed thanks to the economic downturn that accompanied the pandemic, started selling goods in the small plaza. This new vendor market served a critical purpose, providing livelihoods to vendors and inexpensive food and merchandise to neighborhood residents, but it was not without its problems. In response to complaints about trash, crowding, and sanitary conditions, vendors formed the Asociación de Vendedores Ambulantes de Corona Plaza (AVA). The new association, with technical support from the Street Vendor Project (SVP), the Queens Economic Development Corporation (QEDC) and the Queens Borough Presidents' Office worked on producing agreements and plans to keep the plaza clean, collect and store trash, and maintain clear pathways for pedestrians. The vendors were also in conversation with the Department of Transportation (DOT), which has jurisdiction over the public space, to make their informal market a formal addition to the Queens landscape. This all changed in August of 2023, when the Mayor's Office unilaterally called for a crackdown on informal vending in the plaza. Despite the ongoing work by multiple city agencies and non-profits, vendors were cleared out of the plaza without warning. As of September 2023, many vendors have been without income for over a month.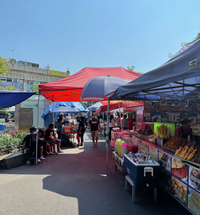 The current situation is uncertain and fluid. Vendors have been in talks with entities such as the Mayor's Office, the Queens Borough President's Office, QEDC, and DOT, to come back to the plaza in some capacity. Working primarily with the Street Vendor Project, this project aims to provide technical assistance to vendors in their struggle to return to the plaza. This includes, but is not limited to the following:
Holding visioning sessions with vendors about ideas for a new vendor market that include discussions about design and technical issues 
Work on ideas for "brandscaping" the proposed market, i.e. creating attractive and culturally appropriate designs for market logos, materials, and accents for carts and tents.
Produce visualizations that help vendors communicate the market's future place in the neighborhood.
Ultimately, vendors desire to come to the table with fully formed and professionally produced proposals, something they are largely unable to do on their own. This project aims to assist them in sharing their visions for their own futures and the future of their neighborhood.