Eve Baron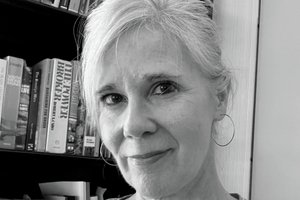 Chairperson and Adjunct Associate Professor Graduate Center for Planning and the Environment
Eve Baron, PhD, has taught at Pratt since 2004 as an adjunct and became chair of the Graduate Center for Planning and the Environment in August, 2016. She's taught a range of courses at Pratt including Introduction to Planning (for undergraduate architecture students) Studio, Thesis, History and Theory of Planning, Civic Engagement, and Fundamentals of Planning. From 2010 to 2013, Eve was Senior Planner and Policy Analyst at the Pratt Center for Community Development.
Her professional experience spans government, advocacy, technical assistance, and academia. Her career interests are in participatory planning; planning process; community-based planning; community development; civic infrastructure; participatory budgeting; equity-based planning; land use; low-cost housing; gentrification and displacement; experiential and service learning; and participatory action research.
Eve has done project-based work in community-based planning, such as Imagine Flatbush 2030, the Plan for Chinatown and Surrounding Areas, the Harlem River Vision Plan, and the Cypress Hills Brownfield Opportunity Area Plan and Verde project. She helped create tools to demystify planning and get people involved, such as the Municipal Art Society Livable Neighborhoods Program. With other advocates, she has worked on grassroots advocacy and reform efforts, such as the Campaign for Community-Based Planning, to bring communities a stronger role in neighborhood decision-making. With the Pratt Center for Community Development, Eve has done research on manufacturing zoning and job retention, such as the 2013 Brooklyn Navy Yard Study and the Cypress Hills Manufacturing Opportunity Analysis.
Eve is a founding member of the Collective for Community, Culture and Environment—a consultant group of women planners, designers, and analysts whose work is grounded in equity and sustainability. She is on the Steering Committee of Planners Network, an international network of progressive planners and activists committed to using planning for positive social change.
Immediately prior to her return to Pratt, Eve was the Interim Associate Director and Academic Program Manager for Urban and Community Studies at the Joseph S. Murphy Institute Center for Worker Education at CUNY's School of Professional Studies.