Rebekah Morris-Gonzalez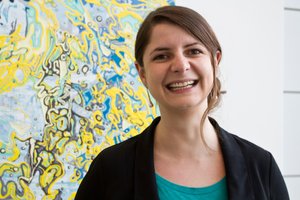 Senior Program Manager
718-637-8652
rmorris@prattcenter.net
Rebekah Morris-Gonzalez is Senior Program Manager at the Pratt Center for Community Development. Her work is centered on supporting low- and moderate-income New Yorkers living in the city's small residential buildings. This includes designing and implementing EnergyFit NYC, which is an innovative model for increasing energy efficiency retrofits in 1-4 unit homes across New York City; and policy and advocacy work for creating legal and safe basement apartments with the BASE Campaign and the East New York Basement Conversion Pilot.
Rebekah joined Pratt Center in 2013 as a Regional Outreach Coordinator for NYSERDA's EDGE Program, for which she created and implemented comprehensive outreach strategies that connected NYC's industrial community to economic development opportunities via the agency's cleantech, energy efficiency, and R&D programs.
Prior to joining Pratt Center, Rebekah worked on economic development initiatives in low-income communities to increase access to SNAP, Medicaid, affordable housing and more; and on a number of sustainability policy projects including a large-scale study of NYC residential recycling habits for DSNY, analysis of impacts of a community green-retrofit pilot program, and an assessment of possible strategies for reducing stormwater runoff for the NYC Parks Department.
Rebekah holds a Master's degree in Urban Planning from NYU's Robert F. Wagner Graduate School for Public Service and a B.A. in Communications and Sociology from the University of Massachusetts, Amherst.
Rebekah has lived on her block in Bedford Stuyvesant for 10 years, where she spends her free time talking local politics with her neighbors, exploring different playgrounds with her son, volunteering with her CSA, and supporting local small businesses.