Kayla Shifter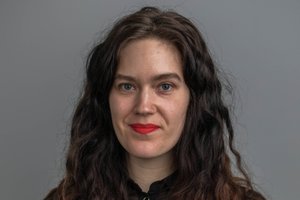 Program Manager, Made in NYC
718-230-6832
kayla@madeinnyc.org
Kayla Shifter is a Program Manager for Pratt Center's Made in NYC initiative. She leads marketing campaigns and membership engagement, including building awareness of the Made in NYC brand, leading the program's storytelling and communication efforts, and planning events and activities that support Made in NYC member businesses and NYC's manufacturing community.
Before joining Made in NYC, Kayla worked on communications for a national nonprofit that strives to increase voting access across the U.S. and a Brooklyn-based nonprofit that supports those impacted by ovarian cancer.
Kayla graduated from The New School with a B.A. in Creative Writing, where she completed her thesis under novelist Katie Kitamura and was awarded the Gilman Scholarship to study literature in Italy.
Born and raised in the Midwest, Kayla has lived in Sunset Park, Brooklyn since 2015 and doesn't plan on leaving any time soon. (It has the best tacos in Brooklyn.) In her free time, Kayla loves to paint and explore on her motorcycle, Sheila.