Why Job-killing Rezonings Don't Make Sense
Table of Contents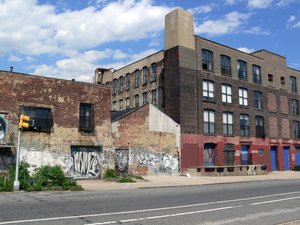 The report "UP FROM THE RUINS: Why Rezoning New York City's Manufacturing Areas for Housing Makes Sense," released this week by the Manhattan Institute, contains some provocative suggestions about how the city can realize fiscal and economic gains through rezoning. Unfortunately, it also exemplifies the glib, developer-driven mania that too often passes – without accurate accounting of costs and benefits – for economic development thinking in New York City. This closer look at the Institute's report suggests a framework for accounting those costs and benefits more accurately.
The enthusiasm to wrest maximum value from every inch of buildable space in a city where land is a scarce resource is not surprising – nor is it surprising that the Manhattan Institute would want every neighborhood to look like the wealthiest parts of Manhattan. But as the Bloomberg Administration has recently recognized through its establishment of an industry policy for the city and the creation of the Mayor's Office of Industrial and Manufacturing Businesses, there are compelling reasons to support industrial zoning where concentrations of industrial businesses exist – and in spite of efforts to dispel the impression, there are such enclaves in each of the five boroughs.
In some neighborhoods, including some of those singled out in the Institute's report, rezoning from M to R (manufacturing to residential) would displace few industrial employees and create fiscal value for the city without spawning significant infrastructure or affordability problems. But in other neighborhoods, the blind conversion of viable, working-class, mixed-use communities into luxury condo developments would be a regrettable legacy for the Bloomberg Administration to leave the city. This is not simply because of the attrition of industrial employment that would result but for two additional reasons:
because the housing that would be created in these areas would be primarily market rate and would likely lead to the displacement of low- and moderate-income families (some of this could be mitigated through the use of inclusionary zoning to create affordable housing, but the Institute's report recommends that all of the housing be market-rate); and
because the reclassification of M-zoned land which could accommodate public infrastructure (utilities, waste treatment and disposal infrastructure, transit-related facilities) would occur simultaneously with residential redevelopment that demands additional such infrastructure, leaving the city with siting costs that are unlikely to be borne either by developers or by the residents of the high-cost neighborhoods they build.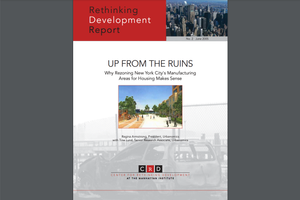 "Space for 500,000 more manufacturing jobs than actually exist"?
The first part of the Institute's report recounts the decline of industrial employment in New York City, concluding that "New York is still zoned for lost manufacturing jobs." While industrial employment has fallen, the implication that vast M-zoned floorspace lies fallow and unused, and moreover that the city's 11,000 existing industrial businesses could be easily shifted around to make way for housing, is grossly misleading. Industrial firms interviewed by the Parthenon Group for a city-sponsored study in 2003 cited lack of affordable real estate as one of their top two concerns about doing business in New York. Many of the city's industrial firms must be particular about where they are because they depend for their competitive edge on proximity to highways, suppliers, workers and end markets. Space zoned for industry is available; however, affordable, appropriately configured space near transportation and accessible to markets (i.e. close to central business districts) is not.
Another reason for the supply crunch is that much of the industrial space that the report considers "available" has already been illegally converted or is being held off the market in anticipation of conversion. Industrial business owners in neighborhoods like East Williamsburg and Red Hook told Parthenon that uncertainty about the future zoning of their areas –- and the possibility that nearby properties would become lucrative residential development sites -- had driven prices up and made expansion impossible for them
Vacancy rates near zero at the Brooklyn Navy Yard, the Greenpoint Manufacturing and Design Center, and Greg O'Connell's waterfront piers in Red Hook present a truer picture of the demand for industrial space in New York City. Space that is near transportation, near local end markets and priced competitively with other industrial space in the metropolitan region is in short supply. This is not to deny that some of the city's M-zoned square footage could be converted to residential use; only that to recklessly displace viable businesses in Red Hook/Gowanus, Dutch Kills and elsewhere would be disastrous.
Over-accounting for benefits, under-accounting for costs
The Manhattan Institute projects significant benefits from the rezoning of the five communities. New development sites in the areas proposed for rezoning would "yield" 64,700 housing units, a meaningful net addition to the city's housing stock. Aside from the effects of a temporary increase in construction employment, the other main benefit of the Institute's proposed rezoning would be fiscal: because the property tax liability of residential real estate exceeds that of industrial real estate, property tax receipts would grow. The Institute's report estimates a net annual addition of $771 million to the city's coffers.
The projected fiscal benefit of the new development is questionable for two reasons. First, the calculations overstate what is likely to be built in the next generation. Even high-density New York is rarely built out to the majority of what the zoning allows. In the recent Greenpoint-Williamsburg rezoning, the Department of City Planning estimated that about one-third of the potential units were likely to be built by 2015. Second, the assumed fiscal benefits are unrealistic because of tax exemptions currently in place. At present, the 421-a tax incentive program offers automatic property tax exemptions to developers of multi-family housing in most parts of the city. Virtually all multi-family housing built outside the core of Manhattan receives these exemptions (with most receiving 10- and 15- year exemptions). Thus, the property tax benefits projected by the Manhattan Institute would likely not materialize for at least a decade.
More broadly, additional residential development is certainly not unwelcome in the context of New York City's housing crunch. However, the impact on individual neighborhoods of replacing industrial spaces with market-rate housing could be significant and negative. Rezoning would set the stage for high-end residential development and attendant amenities in presently mixed-use, moderate-cost neighborhoods like Red Hook and Port Morris where the presence of industry has served as a hedge against an out-of-control real estate market. The spillover effects of new market-rate development in any particular such neighborhood are difficult to estimate, but in the recently rezoned Greenpoint-Williamsburg, Brooklyn, the city's Environmental Impact Statement projected that 2,510 people could be subject to secondary displacement, a figure that activists on the ground critiqued as far too low. The specter of secondary displacement is not in itself a reason to stifle as-of-right market rate development. But when contemplating a land use change that would lead to such an outcome, it makes sense to consider the cost of the secondary displacement that would occur. If an area is rezoned, it makes sense to embrace measures such as inclusionary zoning, to ensure that affordable housing is created and preserved, so that current residents can be present to enjoy the revitalization of their communities.
There are additional costs associated with development that the Manhattan Institute excludes from its analysis. Households and commercial businesses on the densely developed sites in these formerly industrial neighborhoods will generate requirements for infrastructure expenditures on electricity, water and sewer, waste disposal and transportation. Some of these costs will be borne individually by ratepayers, others by taxpayers at large. But many will be shouldered by the low-income neighborhoods that end up hosting the power facilities, the waste transfer stations, the bus depots and delivery truck garages that the new developments depend on. Since these facilities must by law be sited on land zoned for heavy manufacturing, the successive rezoning of industrial neighborhoods presents the following problem: as more industrial areas are transformed, a smaller and smaller number of zones remain that are capable of hosting the infrastructural by-products of development. The recent contretemps in the City Council over Mayor Bloomberg's waste disposal plan – in which Speaker Gifford Miller fought a waste transfer station slated for his wealthy district and threatened to scuttle a fair waste management plan for the city – illustrates this dilemma.
Finally, the Manhattan Institute low-balls (or more accurately, does not calculate) the cost to the city and its residents of the displaced industrial jobs themselves. By the Institute's own figuring, the five areas proposed for rezoning contain 12,000 industrial jobs – not only manufacturing jobs, but jobs in distribution, transportation and utilities that would be crucial for the city even if nothing were manufactured here. The number of jobs at risk would be 50% greater if wholesale jobs were included. In Red Hook/Gowanus, the rezoning proposed by the Institute would destroy a mixed use district in which industry is has markedly increased over the past decade. In Dutch Kills, rezoning would ignore what remains, in spite of years of commercial development pressure, one of the densest concentrations of industrial jobs outside of Manhattan. The livelihoods threatened by these moves need to appear on the cost/benefit ledger, as do the fiscal costs to the city of the destroyed jobs.
Industrial jobs are disproportionately held by foreign-born and minority workers and by workers with a high school diploma or less. Industrial wage levels for these less educated New Yorkers, averaging $28,000 per year, far exceed wages for this group in most service and retail jobs. It's hard to imagine a public official declaring it reasonable to put 18,000 working-class jobs at risk to create the potential for 65,000 units of luxury housing, yet this is what the Manhattan Institute is advocating that the city do.
A constructive approach to our industrial areas
The Manhattan Institute is right to point out that New York City's current system of manufacturing zoning serves the city poorly. But the Institute's approach – rezonings enacted in the absence of any kind of comprehensive plan or thoughtful strategy for the city's industrial sector going forward -- would kill jobs needlessly. A smarter, less destructive approach has begun to emerge from City Hall in recent months. The Bloomberg Administration doesn't think we can get back the industrial jobs the city had in 1950 – only that we can be savvy and smart about keeping and growing our unique industrial base even as we rezone underutilized industrial areas for housing development.
To this end, the Administration has created the Mayor's Office of Industrial and Manufacturing Businesses, housed within the Department of Small Business Services but reporting directly to the Mayor. This office has been charged with better coordinating services to industrial firms, with recommending capital investments that improve the competitiveness of these businesses, and with discouraging illegal conversion of industrial space. The office also has a mandate to map fourteen Industrial Business Zones (IBZs) – several in or adjacent to areas suggested by the Manhattan Institute for rezoning – which will serve as target areas for industrial promotion initiatives. In the IBZs, the Administration guarantees not to rezone for residential use, thus reducing property market volatility in those areas. Three additional neighborhoods have been designated Industrial Ombudsman areas; in these mixed-use zones the focus will be on enforcing industrial zoning and confronting the important issue of making industrial companies better neighbors for largely moderate-income households.
Business associations and industry advocates would like the Administration to go further. They want IBZs mapped into the zoning resolution so that their stability extends to future administrations. They want changes to the City's "MX" zoning so that businesses located in mixed-use areas would have the continued opportunity to thrive. They want more not-for-profit industrial developments like the Greenpoint Manufacturing and Design Center. Legislation pending in the City Council would require residential developers building on formerly M-zoned sites to pay into a fund that would help industrial firms relocate to permanently affordable space. Overall, however, especially through the IBZs, City Hall has articulated a commitment to plan thoughtfully. Some areas in the city that are currently M-zoned are likely to become predominantly or entirely residential; but the Administration understands that strong, job-generating concentrations of industrial activity need not be destroyed in the process.
It has been many decades since New York City was an industrial town, and much of its economic vitality has always stemmed from professional services, the visual and performing arts, and high-end consumption. A job-seeker in today's New York City is more likely to land a position in an office or restaurant than a warehouse or factory – so efforts to reduce poverty should focus more on making sure those jobs pay well than on growing the industrial sector. But there are 11,000 manufacturing, wholesaling, distribution, transportation and employers – making and distributing everything from wontons to windows – thriving in this enormous consumption engine and test market of a city. These employers enable the city to capture more of the value from its primary export sectors while creating blue-collar jobs. If we avoid reckless prescriptions of the type proposed this week by the Manhattan Institute, we can keep them here.